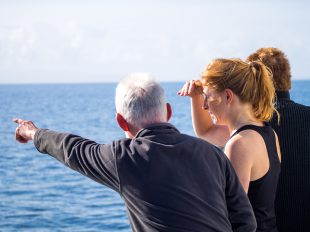 Sun, sea and celebrations aboard Splendour for our first small boat cruise of 2016.
Our guests had a whale of a time for their private small boat cruise – Slipping lines from Holy Loch Marina, we set sail for the beautiful anchorage of Loch Riddon. Basking in glorious April sunshine all were out on deck taking in the scenery as we cruised down the picturesque Clyde. Our first encounter of many was a small group of Porpoises feeding at the mouth of the loch. Much more was to follow during the 6-night small boat cruise charter…
Stephen our onboard chef was cooking up a storm, of fresh Langoustines glazed in garlic butter, herb crusted potatoes and springtime infused salad. Its no wonder why food onboard Splendour becomes a hot topic each day!
After a peaceful nights sleep and more importantly breakfast, a few of the party decided to walk part of the Cowal Way from Upper Caladh, to the village of Tighnabruaich, where the fabulous art gallery and Botanica gift shop await your arrival – a great reward. The others opted for a leisurely cruise spotting porpoise, eider ducks and kittiwakes.
With all our small boat cruises we create bespoke itineraries with your main theme in-mind. This cruise was all about the romantic island of Arran with as much wildlife as possible, Arran was our next port of call with an atmospheric visit to the Machrie Moor standing stones – a must do visit for all Outlander fans!
Coupled with Arran we pointed our bow to Ailsa Craig, mirror seas allowed a tour around the small volcanic plug, gannets galore were busy making nests, Grey and Common Seals were plentiful and porpoises were gracing us with their presence. Not to mention a sighting of a visiting American submarine – A great week for wildlife!
With guests enjoying a relaxing drink on deck there were activities to be had by others – the first dive and swim from Splendour has taken place, a run around Cumbrae and even our kayaks have been paddled around the secluded bay.
On our return, the final leg of this truly special cruise, a holler 'thar she blows' an incredible sighting of a minke whales located off Inverkip – a great end to a great week.
All the Argyll Cruising team send Lesley and Roger their warmest wishes celebrating their wedding anniveresy aboard Splendour. A special thanks to Hugo for documenting their wonderful cruise in and around Argyll with these great shots. All photos are credited to ©Hugo Donnithorne-Tait, for more awe-inspiring wildlife photography around the globe visit Hugo's light or flight website!
To book your special occasion aboard Splendour for up to 8 guests visit our Private Charter page to see all dates available for 2017 and 2018.