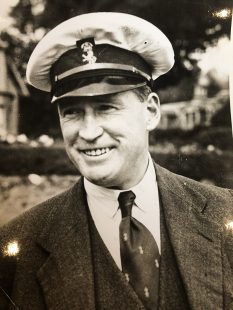 Many people ask us why we chose to start a cruise company. The answer is it was a no brainer – we've got seawater in our veins!
Skipper Iain was born and brought up in Stonefield Castle on Loch Fyne, being on and around the water from a very young age, sailing is second nature to him. He knows the west coast waters like the back of his hand, and has a deep love and knowledge of local wildlife – there's no-one we'd rather be on board with.
Fiona's grandfather (Jamie's great-grandfather) was John Herbert Thom, the man who brought yachting's oldest trophy, the Seawanhaka Cup, back to Scotland from America in 1938 and then successfully defended it, on the Clyde, against Norway on 24 August 1939 in his six-metre yacht Circe.
This was 'A contest that would be remembered for many years on the Clyde.'
This was an event which nearly didn't happen as the Royal Northern Yacht Club committee met to discuss sending the crew of the Royal Norwegian Yacht Club and their yacht Noreg III home due to rising political tensions. The cup was won on the day Parliament re-assembled to reaffirm its resolve to meet force with force. In fact, the outbreak of World War II finally happened just ten days after the final race.
It must have been an incredible sight to see with one report saying: 'Circe and her crew given a great reception when towed to her anchorage in Hunter's Quay. Miniature cannons were fired. Hooters, sirens and car horns blasted forth. Over 1,000 people on the shore were cheering.
'The welcome was acknowledged by the firing of rockets from the launch towing Circe.'
The photo we've chosen shows Commodore Mr R M Teacher congratulating John Herbert Thom. Mr Teacher's wife gave Herbert a sprig of white heather on the first day of racing to bring him luck. He wore it every day.
We'll be raising a glass on 24 August to recognise the incredible feat on its 80th anniversary. Wherever you are, we hope you'll join us.
Find out more about the Seawanhaka Cup at https://bit.ly/2YyHmD2