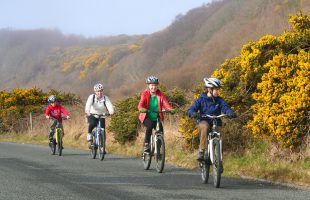 Charter the Whole Boat
Come aboard Argyll Cruising for the perfect family cruise holiday – unforgettable for adults and children of all ages. Our vessel, Splendour, is the ideal size and layout to charter the whole boat, for up to eight guests.
Book the whole boat and receive a 10% reduction on our normal prices. The price includes all food and hospitality on board and the freedom and flexibility to choose your own itinerary.
Excellent accommodation for a family cruise holiday
With en suite cabins throughout and the possibility of a family room with a double and single bed in one cabin, Splendour is ideal for a family cruise holiday. Everyone gathers in the deck saloon, but also in the roomy wheelhouse, a great place for spotting wildlife and admiring the scenery. The outside decks are very roomy, excellent for storing equipment such as canoes, bikes and windsurfers.  There is no better family holiday than a small boat cruise holiday!
Go ashore to explore
Our tender takes guests ashore to explore the natural environment, which is a rich habitat for a wild variety of flora and fauna, much of it rare. Go swimming in the sheltered sea lochs, have a picnic on a beach all to yourselves or explore by canoe, kayak or bicycle.
0404040708090909091010
April 2024
Cruise
Nights
Spaces
Price
06 Apr 2024
Family Holiday
6
8
£16850
Enquire
13 Apr 2024
Family Holiday
3
8
£8815
Enquire
16 Apr 2024
Family Holiday
3
8
£8815
Enquire
July 2024
Cruise
Nights
Spaces
Price
30 Jul 2024
Family Holiday
3
8
£9715
Enquire
August 2024
Cruise
Nights
Spaces
Price
10 Aug 2024
Family Holiday
6
8
£18530
Enquire
September 2024
Cruise
Nights
Spaces
Price
03 Sep 2024
Family Holiday
3
8
£9185
Enquire
14 Sep 2024
Family Holiday
6
8
£17795
Enquire
21 Sep 2024
Family Holiday
6
8
£17795
Enquire
28 Sep 2024
Family Holiday
3
8
£9185
Enquire
October 2024
Cruise
Nights
Spaces
Price
01 Oct 2024
Family Holiday
3
8
£8815
Enquire
12 Oct 2024
Family Holiday
6
8
£16845
Enquire