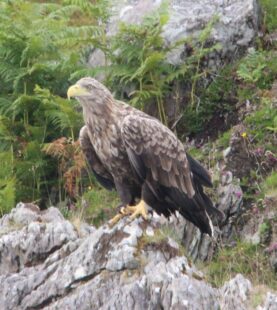 Our very own Skipper Ted has over a decade of professional wildlife spotting experience under his belt, working in areas as far away as Antarctica and the Caribbean. But his heart will always really be on the West Coast of Scotland, where he's spent his whole life seeking out the best wildlife sightings, from seals to dolphins, gannets to eagles. So we thought this might be a good opportunity to start a new Argyll Cruising blog series of his top tips for spotting some of the best wildlife we hope to offer on our cruises. Although of course a good sprinkling of luck always comes in handy!
So first up is the majestic white-tailed sea eagle, one of Ted's personal favourites. This huge eagle is the largest bird of prey in the UK. The adult birds are usually about 90cm tall, with a wingspan that can stretch to 2.5m. They were previously persecuted to extinction in Scotland, but in recent years have been successfully reintroduced and there are now estimated to be around 150 pairs in the UK, so although still rare, chances of sightings are increasing. We were lucky enough to see a pair only a couple of weeks ago by Carrick Castle on the west shore of Loch Goil, a frequent anchor point for cruises out of Holy Loch.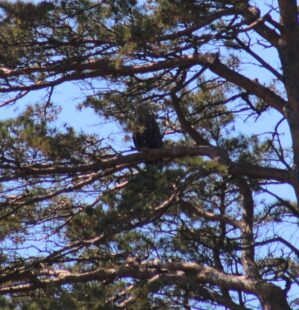 A good starting point when trying to spot one of these beautys is the conspicuously large size. They have brown body plumage with pale heads and necks. The head and neck can be almost white in older birds, and the tail feathers of adults are white, hence the name. In flight they have massive long, broad wings with "fingered" ends. Their heads protrude and they have short, wedge-shaped tails.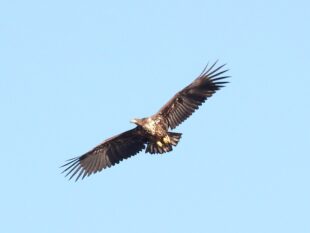 White-tailed sea eagles live on a diet of mostly fish, and are also known as simply "sea eagles". It's a good bet that you'll spot them near waters off the coast or by lochs. They can often be seen hovering over the water. They'll stop mid-hover and then suddenly drop down to catch a fish. However, they will also eat other things they can get their beaks on, including smaller birds, rabbits and hares.
As white-tailed sea eagles mate for life, and live for up to twenty years, you'll often spot a pair nesting together. If you're really lucky you may even see their unique mating dance in which they lock claws mid-air and cartwheel rapidly downwards together towards the water or ground.
For a while we've been able to find these eagles out in Mull, Jura and the Small Isles, but, and very excitingly, we now have at least two nesting pairs of birds in the Clyde. This means that on our trips out of both Holy Loch in Dunoon and Oban, there's a fairly high chance of white-tailed sea eagle sightings. And with his specially honed eye, Skipper Ted will always try his best to point them out.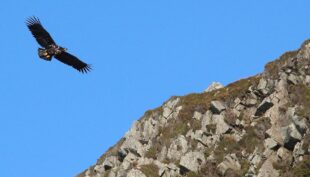 So good luck and happy spotting!
We love to chat all things Scotland, cruising and wildlife, so do drop us a message at info@argyllcruising.com or through social media, on Instagram, Facebook and Twitter @argyllcruising. And do sign up for our newsletter at the bottom of the website home page to be kept up to date.