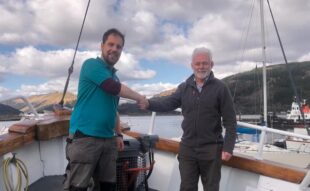 Hello Everyone,
First of all, a huge and heartfelt thank you to Iain, Fiona and Jamie for what they have done with Argyll Cruising and for allowing me to integrate into the business over the last couple of years. Splendour is a beauty, and the routes are fantastic. A true labour of love.
It's an incredibly exciting time with the new season fast approaching. As Iain says above, he isn't going away. He's kindly agreed to be my second skipper, jumping in as and when required.
So, who am I? Well, for the last decade or so I've been working as a tour guide and skipper here on the west coast of Scotland and further afield in locations such as Svalbard, the Caribbean, and the Antarctic.
I'm a qualified Marine Biologist and Oceanographer and am incredibly passionate about local wildlife. I've delivered lectures and guided tours on everything from Penguins and Whales in the Antarctic, to Coral reefs in the Caribbean, through to our local Puffins, Seals, Porpoises and Oyster Catchers – all of which can be seen from Splendour.
My family will also be involved in the business, with my sister Claire and mum Gilly helping in the back office, and my 5-year-old nephew Felix popping in from time to time to help (he's convinced he is my business partner!).
We've been watching Splendour from our windows in Tighnabruaich and Dunoon ever since her first season. Whilst no one could ever fully replace Iain, I'm incredibly humbled to be taking on this wonderful business and will continue to deliver the amazing tours and experiences you're accustomed to.
I'm genuinely looking forward to meeting everyone and showing you the wonders of Argyll.
Hopefully see you soon!