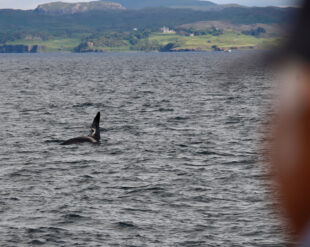 I've had an amazing first season at the wheel of Splendour and have loved helping our Argyll Cruising guests to experience all that the west coast has to offer as a Scottish holiday destination. We're so pleased people choose to spend their precious vacation time with us and hope everyone enjoyed their trips as much as I did.
This year has been fantastic for Scottish wildlife, and particularly whale sightings. We don't know whether it was due to the warm start to the season, or the regular winds mixing up the water column and increasing the amount of plankton in the surface waters, but in any case I saw more whales off the west coast of Scotland than I ever have in my years of wildlife boat trips.
I saw my first whale of the year between the islands of Colonsay and Iona, over the top of a complex bit of seabed and rock. This suggests that the turbulence had brought zooplankton, which minke whales feed on, right to the surface, which resulted in a feeding frenzy with some of our native Scottish birdlife. Shags, guillemots, gannets and razorbills were all visible on the surface. This was, of course, what first caught my attention. We diverted to have a look, and as we got close the whale came up in a large lunge feed, displacing the birds and showing off its expanding throat. We drifted and watched the whale for fifteen minutes while it fed before going on our way. A brilliant experience for all.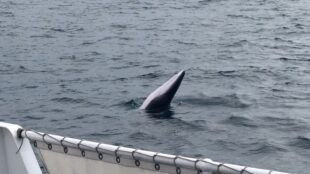 Minke whales weren't the only species we saw this year. We also had an unconfirmed but suspected fin whale sighting. We only saw it surface a couple of times, but the height of the blow, the size of the whale and a brief view of its dorsal fin all point to a fin whale. Having only seen this species in the Southern Ocean,  or much further north before, I was very excited.
The highlight for me, though, when it came to whale watching this year, was undoubtedly seeing John Coe and Aquarius, the much loved pair of orca who inhabit the west coast. We were on our way back from Castle Bay in Barra to Tobermory, running a little late having stopped to watch common dolphins and minke whales around Hawes Bank in the Hebridean Sea, when I heard a report of killer whales in the area. When we were almost level with Ardnamurchan Point, we finally saw them. John Coe has a distinctive tall dorsal fin with a small wiggle in it and a notch out of it, so the moment you see it you know which whale you're lucky enough to have encountered. Decreasing in speed, we were still over a kilometre away when the whales noticed us and decided to investigate. John Coe and Aquarius spent twenty minutes swimming around Splendour and even coming alongside us as we drove away. We all decided it was worth coming into Tobermory later than planned to spend time with this magnificent endangered species. A memorable day finished off with fish and chips for tea!