Hello from the whole team at Argyll Cruising! It's been a little while since we've been in touch, so we just wanted to drop into your inbox with an update. We may seem a bit quiet since the cruising season ended in October, but we've been busily working away behind the scenes.
2022 was a truly memorable year with Ted taking over the wheel for a brilliant twenty-six trips, many with some fantastic local wildlife spotting. The highlight of the year for Ted was when he and his guests on the Corryvreckan to the Shiants cruise saw the well known Orca pair, John Coe and Aquarius, off Ardnamurchan point. However, by far the most exciting development this year has been around the Firth of Clyde, where we now have two newly established pairs of white-tailed sea eagles, as well a pod of dolphins who have settled and are increasing in numbers. A joy to see.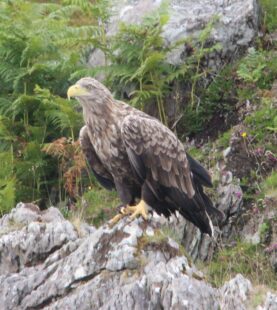 Skipper Ted has been keeping himself occupied in recent weeks getting the leading lady of Argyll Cruising, Splendour, our beautiful converted fishing trawler, sorted for the winter and making sure she'll be in tip-top shape for next year's cruises. He's been working on some of the bigger projects to make improvements on board with talented local crafters, and we're excited to show these off when they're ready. And, speaking of 2023, we do still have some availability in our Cruise Calendar and would love for you to join us, whether as a new or a returning guest. Give us a call or drop us an email and we'd be delighted to help you find your perfect Scottish cruising holiday.
The temperature has certainly dropped in recent weeks up here on the West Coast of Scotland, and although chilly, there is something quite special about the misty mornings overlooking the sea, and the frost on the ground. We are so lucky to live in such a beautiful place and love nothing more than sharing it with visitors. While out walking ship's dog Marvin in Caladh, one of our frequent stops on the Kyles and Isles trips, we had the privilege of watching otters playing by the shore. One of our favourite animals and such a pleasure to see.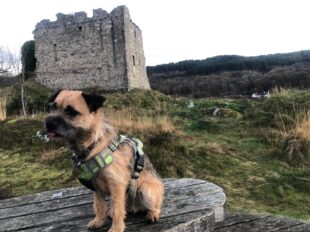 As well as getting Splendour ready, and making sure to spend time enjoying the glorious scenery around us, we've also been busy putting together our calendar for the 2024 cruising season, which we're delighted to have just released on the website. As before we're offering three, six and nine night cruises, the early and late months of the season operating out of Holy Loch Marina here in Dunoon, and the middle of the season out of Oban. Any of these cruises can be booked now and Splendour is also available for private charter, the perfect option for family cruise holidays. However, for 2024 we have also added a new cruise to the calendar, which Skipper Ted is particularly excited about. The Islands and Wildlife of the Southern Hebrides cruise takes in the best of the islands in this stunning area, with stops in Islay, Mull and Jura, among many others, and the chance to spot some incredible Scottish wildlife from Splendour's superior viewing areas, under the guidance of skipper and marine biologist, Ted. We think it's going to be a good one!
Now we're off to start getting ready for Christmas and a welcome break. We hope you are all well and we look forward to hearing from you soon.
For more regular updates please follow us on Facebook and Instagram. And for those of you who enjoyed a trip with us this year, we would really appreciate a Google Review if you have time. This can be done at the following link https://g.page/r/CTQCEdPJ6qjTEAI/review
Bye for now!