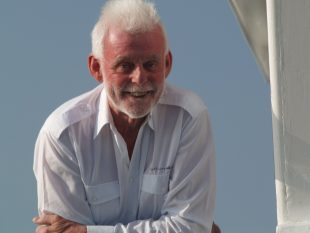 Getting Ready To Welcome You Aboard!  
At last it looks like we can all go cruising again!!
It has been a funny old year for us at Argyll cruising and I'm sure for all of you too.
Thanks to the brilliant brains at Oxford and elsewhere we are on the brink of regaining our freedom.
We have been down at Nobles yard in Girvan with Splendour this week doing small repairs and getting her bottom anti fouled for the season so we're good to go!
Our cruises will start in May 2021 (at least for our domestic guests) and hopefully soon after for our overseas friends. We will know more about international travel in the near future.
NO STONE UNTURNED
We've reviewed every single area of our operation with a fine-tooth comb – from boarding Splendour, moving around the vessel and servicing cabins, to the way we prepare food – to develop a rigorous response to the global public health crisis.
WHAT TO EXPECT
As a result, a slightly different guest journey, updated crew protocols, and an enhanced set of hygiene and safety measures that meet or exceed government guidelines, have been implemented aboard Splendour to provide even greater peace of mind during your cruise on the west coast of Scotland waters . We will, of course, continue to work with public health authorities to enable us to adjust and update those measures in line with the very latest guidance.
SAFE ADVENTURES
Our priority is your safety, whilst also providing an environment where you can have a wonderful time. Our forte has always been providing experiences that meet our individual guests needs and exceed expectations, so – whether you're looking for secluded shoreside walks where your only company is the local wildlife, visiting the many distilleries on our doorstep or simply being engrossed in your book on Splendour's decks – the fun and adventure at Argyll Cruising must and will go on!
Please read our approach to Coronavirus, protecting the wellbeing of all onboard Splendour.
We look forward to welcoming you aboard – if you have any questions or concerns, please do get in touch with Jamie.
Best Wishes
Skipper Iain