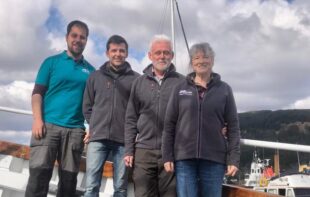 As you know skipper Iain, not being in the first flush of youth, started Argyll Cruising as a retirement project. A last hurrah if you like.
The company has been quietly on the market for a couple of years now and we have been lucky enough to find a very suitable buyer in the form of Ted Creek.
Ted is a very likeable young man and a wildlife expert. He has years of experience on cruise boats.
He plans to run Argyll Cruising in exactly the same way as we have and it will continue to be a family run firm with help from his Mum, Sister, brother-in-law and nephews.
Iain, Fiona and Jamie have thoroughly enjoyed building up Argyll Cruising and welcoming guests from all over the world for trips on the stunning West Coast of Scotland.
It all started in 2014 when Iain spotted a slightly sad looking Splendour on a website and instantly knew that this was the boat he had been searching for.
Since then Splendour has had attention lavished on her and now turns heads wherever she goes.
Iain looks on many of our regular guests as friends and will continue to be associated with Splendour for a wee time yet, skippering the odd cruise, to give Ted some time off, and helping out with maintenance when required.
Iain has throughly enjoyed his time on Splendour, getting to know his own country in good company and will never forget the wonderful sights he has witnessed, from Ailsa Craig with it's Gannets, to St Kilda and the Shiants with their huge Puffin colonies and marauding Great Skuas, from the caves of Staffa to the sand dunes of Mingulay. What a wonderful way to spend a few years!
Thank you all for sharing this experience with us.
All holidays already booked with Argyll Cruising will of course be honoured and Iain, Fiona and Jamie are sure you will have a fabulous time with Skipper Ted and returning from last season Chef Iggy!
Happy Cruising, Love Iain, Fiona and Jamie.