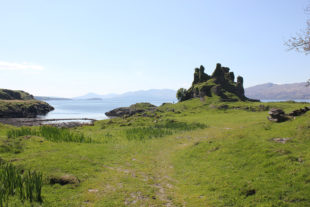 Legends of Scotland – Tales From Splendour's Wheelhouse.
From mythical monsters and giants to clan chiefs with superhuman powers and tales of tragic, unrequited love, Scotland is a land filled with myths and legends.
Splendour sails through the heart of where many of these stories are based and during the Year of Coasts and Waters we're going to share some of our favourite stories with you.
Coeffin Castle
The island of Lismore lies in Loch Linnhe at the southern end of the Great Glen. During the summer months, when Splendour's home port is in Oban, Lismore is one of the islands we pass regularly. At around ten miles long and one mile wide the island is surrounded by incredible mountain scenery. From here you can see Ben Nevis in the north, the hills of Glencoe, Ben Cruachan and the hill of Mull and Morvern.
While Lismore's natural environment is stunning, its history is possibly even more incredible. Lismore has been the seat of the Bishops of Argyll with a Cathedral dating from the 13th century. Not only has Lismore been steeped in Christianity, but it is also home to Castle Coeffin, a ruined Viking stronghold, which is where this legend begins.
The ruins of Castle Coeffin seem to grow out of the landscape of the island. Covered in ivy, it's difficult to tell where the land stops and the castle begins. As Splendour sails past look closely at the granite walls, huge blocks still standing through the centuries and wonder about what happened within these walls and what secrets this castle still holds.
Castle Coeffin was built by the MacDougalls of Lorne on the site of a Viking fortress. In these days Beothail of the golden hair lived there. Beothail had fallen in love with a young Viking warrior, who was killed in Norway. On hearing the news Beothail grew pale with grief and died.
After her death, the winds howled round the walls of Castle Coeffin and Beothail's voice could be heard pleading with her father and brother to take her bones to Norway so she could be at peace. Eventually, her father agreed and her bones were washed in the sacred spring of Saint Moluag, a contemporary of St Columba who brought Christianity to Lismore, blessed and carried to Norway where they were laid where her lover was buried.
But Beothail was not at peace, a bone was missing, left behind in the well and once again Beothail's voice echoed round the walls of Castle Coeffin pleading for it to be found every time the winds blew. There was nothing else for it but to find the bone. Once retrieved it too was carried to Norway. Reunited, Beothail's wails stopped, but she has not completely left the island. Legend has it that a maiden's sigh can be heard around Castle Coeffin's walls whenever the wind blows.
As we sail by spare a thought for the young lovers whose future was ended so tragically and, if the wind is blowing, listen out for the cry of a heartbroken maiden.