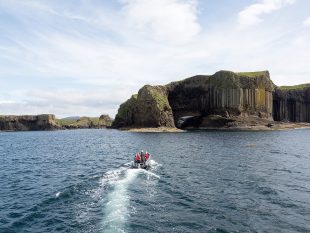 Scottish Islands, wildlife and the world's third-largest natural whirlpool – just one cruise in the life of Argyll Cruising
In 2018 we introduced a new Scottish islands wildlife cruise – Corryvreckan to the Shiants – a special 10-night trip designed by Skipper Iain to pull together some his favourite anchorages and routes. Wherever you are, just sit back, imagine you've just stepped onboard Splendour and you've got a gentle west coast wind in your face. Enjoy the trip…
Day One
Arriving onboard Splendour is a very friendly affair. Meet your crew, you'll have already met Fiona or Jamie but this is the moment you meet your onboard crew. Skipper Iain will take you to the most magical places where you will experience sights and sounds which you'll remember forever, the onboard chef will become your new favourite person and you'll find yourself, months later comparing shop-bought and boat made flapjacks. You'll also meet our other guests, who for now are strangers, but who will very soon be handing you binoculars to get a better look at a pod of dolphins or sharing your excitement as you step onto Splendour's tender to go on an excursion.
Following introductions and Skipper's safety briefing it's time for a glass of bubbly and cast off for a sunny afternoon cruise around Kerrera to overnight on Mull's tranquil Loch Spelve.
Day Two
Wake up to the comforting sound of Splendour's generator, followed by the unmistakable aroma of coffee. It's time to weigh anchor for a spirited passage through the Cuan Sound between Seil and Luing, propelled along by three or four knots of tide.
This is one of our hotspots for wildlife encounters. Make sure you're on deck looking for ripples which might lead you to a group of porpoises. If you're really lucky you'll see a 'rugby ball' (baby), porpoises love Splendour and will often swim alongside, it's one of those experiences you never get tired of. This year we also saw Fiona's grandpa's gorgeous Island Class yacht 'Canna'. The old man would be very pleased if he could see how beautifully she's been restored. Splendour drops anchor alongside her and it's time to climb into the tender enroute for Arduaine Gardens.
The gardens are an unexpected treat where you can explore the world. You find rhododendrons, azaleas, magnolias, giant Himalayan lilies and tree ferns. And then you discover the secret path which takes you to the viewpoint where the west coast islands lie in front of you providing a magnificent backdrop to Splendour who is lying waiting for your return. Listen closely and you might even hear the chef preparing lunch. With those words, it's back to Splendour to enjoy your first lunch at sea.
Then it's off to Corryvreckan, the world's third-largest natural whirlpool which is sandwiched between the islands of Jura and Scarba. In strong winds the waves of the Corryvreckan can reach over 10 feet, it's an incredible sight and Skipper Iain insists on everyone wearing lifejackets on deck. Legend has it a Scandinavian prince who fell in love with local chieftain's daughter anchored his boat for three days and nights in the Corryvreckan in order to win her father's blessing to their marriage. Unfortunately, his three ropes made of rope, wool and maiden's hair failed and the whirlpool claimed him. His dog survived and he dragged his master's body ashore to buried in the King's Cave.
After all that excitement it's time to get changed for dinner and a lovely quiet overnight anchorage off Bunessan.
Day Three
Day three is a BIG day with some real bucket list destinations during the Scottish islands and wildlife cruise. If you're not too excited to eat you'll enjoy bacon and eggs for breakfast. This morning you're going to the world-famous Iona Abbey. For centuries Iona has been known as the cradle of Christianity and place of pilgrimage. St Columba built his first Celtic church and monastic community here. Iona is a sacred island and you'll find kings of Scotland, Ireland and Norway buried here.
As Splendour sets sail the excitement really starts to build. We're on our way to Staffa and soon you'll be walking in the footsteps of Mendelssohn and Queen Victoria. You'll leave Splendour for our tender which will take you into the incredible Fingal's Cave. This cave inspired Mendelssohn's Hebridean Overture and as an extra unforgettable memory, there's the opportunity to touch the back of the cave for luck. Legend states Staffa is the last remaining Scottish part of the Giant's Causeway which was created by warrior Fionn MacCumhaill to link Scotland with Northern Ireland.
We're still not done! We're off to Lunga where thousands of puffins and kittiwakes are waiting to welcome you.
Day Four
We've got an early 7.00 am start on day four. We're heading for Muck! As we pass the tiny island of Gometra look out for bottlenose dolphins. These marine entertainers rarely disappoint and will often attach themselves to the bow wave making for memory-making photos and video.
Splendour anchors at Port Mor, the biggest settlement on Muck with a population of around 15. Then it's time for a walk to Gallenach Bay in the north while staring at the stunning backdrop of neighbouring island Rum.
Having worked up an appetite, it's back to Splendour for lunch before lifting anchor for Rum. We're anchoring in Loch Scresort tonight so it's all ashore for a pre-dinner walk. Look out for common dolphins in the water, red deer on land and black-throated divers in the sky!
Day Five 
Blue skies and cotton wool clouds are the best way to see the peaks of Barkeval and Askival as we head off at the beginning of day five. As we round 'Point of Seals' for Loch Scavaig and the Cuillins. Skipper Iain can tell you the names of the Cuillin peaks as you cruise into the heart of them. Watch out for seals basking on the rocks in the sunshine – it's just another photo opportunity! On a rising tide, we squeeze through into tiny Loch na Cuilce and drop anchor.
It's time to head ashore for a scramble around Loch Coruisk and there are no midgies! Every time we visit we find something magical. We've watched weddings take place here with the party being delivered by Seamus' beautiful launch 'The Misty Isle'. We don't know what you'll see, but we promise you'll remember this spot forever.
After lunch, we're ready to take you on one of our favourite trips as we cruise up the incredible west coast of Skye. You'll pass the towering stacks of MacLeod's Maidens, the majestic 900-foot tall cliffs and the lighthouse at Neist Point.
Today you could see Minke whale and Golden Eagles, both frequent in this part of Scotland before we head to our overnight shelter in Ardmore Bay on Waternish.
Day Six
Wipe the sleep from your eyes, grab your first coffee and – we're off! You'll have breakfast on the move this morning. Choose to eat in the saloon or head on deck to our outside dining table where you can watch Scotland pass before your eyes. We're off to the Shiants today, which are a small group of islands in the Minch between Skye and Lewis.
Why do we love them? Well because they are home to 250,000 puffins and probably as many guillemots and razorbills – they're fabulous!
On your way, you can expect to spot seals, great skuas, arctic skuas and lots and lots of tiny storm petrels which are a real treat to watch.
From here we're onwards to Skye with Portree in our sights for an overnight stay. We have regularly seen Minke whales in this region so we'd advise you to keep your eyes open and your cameras poised!
Cruising down Skye's east coast is magical as we head towards Portree.
Day Seven
We can't promise a heatwave, but we've had some stunning weather on Skye in previous years (no pressure, Skye). Leaving Portree we recommend you looking up to the sky, where you'll often be rewarded with the sight of sea eagles.
Along with the sea eagles, this part of Scotland is a hotspot for porpoises and bottlenosed dolphins. So, as we cruise through the Sound of Raasay make sure you're at the al-fresco table on the foredeck where we may pick up some company. We will never get tired of seeing a pod of porpoises or dolphins hug Splendour's bow and our guests just love it.
Our afternoon trip is to the village of Plockton. You'll fall in love with Plockton when you see it, it's just so familiar! That's because it's been the location for many TV series and films. Some of our guests of a particular age may remember the BBC series Hamish Macbeth (we'll make sure younger guests check it out on YouTube before they go ashore…)
Beautiful days lead to glorious evenings and this far north summer evenings are often golden. You won't want to miss a moment so dinner will be served al-fresco, please remember to raise a glass to John who built the table.
Day Eight
It's always a cracking morning when a cruise to Eigg is on the menu, and that's today's destination.
Today you'll cruise under the Skye bridge while you enjoy breakfast before heading onshore to the beautiful island of Eigg. With a population of under 100, Eigg is just nine kilometres from north to south and five kilometres from east to west. It's the second largest of the Small Isles after Rum and while tourism is a big part of the island's employment there are very few homes which aren't lived in year-round.
When the time comes to say goodbye to Eigg it's time to enjoy tea and sticky toffee pudding. We guarantee every time you eat sticky toffee pudding, forever you'll be transported back to this moment, in the warm sunshine as Splendour slips her mooring and heads south to the Sound of Mull and tiny Loch Na Droma Buidhe, Loch of the Yellow Ring, to our overnight anchorage.
Day Nine
Day nine dawns and we cruise beautiful Loch Sunart to the narrows at Eilean Mor. We'll anchor off Invasion Bay and go wildlife spotting as we walk through the natural, mossy woodland. Expect to see red deer, ringed plover and curlew.
It's then back on board for lunch and the return cruise down the loch to the colourful, bustling town of Tobermory. Instantly identifiable, Tobermory was built as a fishing port in the late 18t century and is now the main town on Mull. There can't be many people who don't recognise the coloured houses hugging the harbour as Balamory, the BBC children's TV programme which became a global sensation.
Tobermory with its wonderful new pontoons is one of our favourite stops during our Scottish wildlife islands cruise and we'll spend our penultimate night here.
Day Ten
There's time to explore Tobermory this morning. Choose to head for the waterfall walk to Aros or the shore path to the lighthouse at Rubha Nan Gall, which translates as Stranger's Point.
After lunch we're on the move again, cruising down the Sound of Mull to Loch Aline, a wonderfully sheltered anchorage.
You'll hop onto Splendour's tender, head ashore to the pontoons for a walk around the loch past Kinlochaline Castle and Ardtornish House. This will have, no doubt made you peckish, so we'll pick you up at the boathouse and then back for something delicious.
Day Eleven
It's never our favourite day as, after a short cruise it's time to say goodbye. We like to think we're saying our fond farewells to new friends who will return again. It's our privilege to share with you some of the most scenic parts of Scotland with, of course, some good food, great weather (we hope) and abundant wildlife thrown in. And that is our 10-night Corryvreckan to the Shiants Scottish islands wildlife cruise!
Thank you to Viviane, Paul and Elaine for all their super images during their adventure on the 10-night Corryvreckan to the Shiants