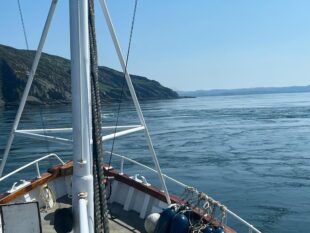 You may have heard of the phenomenon but what is the Corryvreckan Whirlpool and do you know the myths surrounding it?
Situated off the West Coast of Scotland, between the islands of Jura and Scarba, lies  the Gulf of Corryvreckan, and within these waters is the turbulent Corryvreckan Whirlpool. The Corryvreckan Whirlpool is said to be the world's third largest permanent whirlpool and is one of the most dangerous stretches of water around the British Isles. At its strongest, the whirlpool can reach currents of over ten knots and cause waves that are over nine meters high. It is also said that at its most ferocious, the roar of the whirlpool can be heard ten miles away! 
There are many myths and legends asking the question what is the Corryvreckan Whirlpool? It's something that has fascinated onlookers for centuries. One such legend says the whirlpool was named after an Irish prince.  He is said to have drowned after being challenged by the father of a Scottish princess he wanted to marry to sail his boat through the whirlpool for three nights. Another says it was conjured by a Scottish witch to protect the land from an Irish pirate and send him to his death in the watery depths. There is a wonderful illustrated book of Scottish Mythical Creatures, which tells a wonderful tale of the whirlpool. We recommend having a read if you're interested in that kind of thing. 
In actuality, the whirlpool is an incredible natural phenomenon. There is a giant rock pinnacle under the sea, which rises to ninety-five feet below the surface. This causes an obstruction in the water, so as the sea hits it the water is forced upwards, creating huge swirling waves.
We at Argyll Cruising love visiting the whirlpool and showing it off to our guests. One thing we particularly love about the whirlpool, other than the amazing spectacle and the thrill of the swirl, of course, is that the current over the pinnacle makes a brilliant environment for filter feeders such as coral, sponges and shellfish, which in turn attract larger animals such as porpoises, whales and dolphins.
We visit during our Corryvreckan to the Shiants cruise, which we run in June and July out of Oban. It's a ten night cruise which includes visits to Iona, Staffa, Canna, Skye, The Shiants, Mull and of course the Gulf of Corryvreckan. Do let us know if you'd like more information and check out our cruising calendar to see when we're visiting next year.