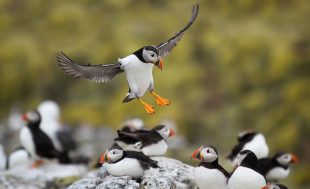 It's no wonder puffins are so popular, with their brightly-coloured beaks and jolly expressions. Sometimes known as "clowns of the sea", they're always a joy to see. I think one of our most asked questions might just be on where and how guests can see puffins. So today's Ted's Tops Tips is on this very subject. Hopefully it might help you decide which of our Scottish cruises to book if you harbour dreams of seeing these happy little birds.
There are four different types of puffin in the world, but the ones we see in Scotland are Atlantic puffins, identifiable in the summer months by their black and white feathers, brightly coloured beaks and orange legs. They're a sub-species of auk, which counts guillemots and penguins amongst their family, but all are notable for their ability to 'fly' underwater. The Atlantic puffin is globally considered vulnerable due to a number of factors, but there are several places we can see them in Scotland and, specifically, on the West Coast where we are. There are mainland locations, mainly cliff faces, where you can spot puffins, but a lot of colonies like to call islands their homes.
Timing is crucial when hoping for puffin sightings. Puffins can mostly be seen when they return to land to breed in the spring and summer months – between late March/April until around the end of July or possibly early August – before they head back out to sea. There is always a chance of spotting them whilst they're out and about, but your best bet is visiting one of the island colonies when they're nesting, and if you're hoping to holiday with Argyll Cruising, you might be in luck as we visit the following locations, known for their puffin colonies, among a whole host of other amazing sights.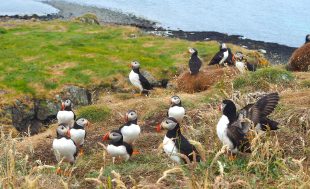 Lunga
The Isle of Lunga is one of the Treshnish Isles, lying between the Isle of Tiree and the Isle of Mull. The only way to reach Lunga is usually via an organised tour. All of our cruise itineraries are subject to change, mainly due to the conditions, but we aim to visit Lunga on our six night Magnificent Island of Mull cruise, which we run out of Oban in July and early August and also on our Magic of Mull short three day cruise running in June, July and early August.
We do also stop in on our longer cruises such as the ten night Corryvreckan to the Shiants and the epic thirteen night Hebridean Odyssey.
In addition to puffins there are said to be forty-seven bird species on Lunga, as well as dolphins, porpoises, seals and sometimes even whales in the surrounding waters, so it's a magical place to visit for wildlife cruises.
Staffa
Staffa is world-famous for Fingal's Cave, an incredible sea cave formed entirely by hexagonal columns of lava, and said to be Queen Victoria's favourite place in Scotland. The acoustics in Fingal's Cave are so impressive it inspired Felix Mendelssohn to write an overture about it and Jules Verne to include it in several of his books.
While there aren't as many puffins on Staffa as on Lunga, there are an estimated 4,500 puffins during the summer season. It can be quite difficult to know how many puffins actually nest in an area as they dig their burrows on slopes that are too steep to access safely, but estimates say somewhere between 150–450 pairs nest on Staffa.
Again, we aim to visit on both Mull cruises, Corryvreckan to the Shiants and the Hebridean Odyssey.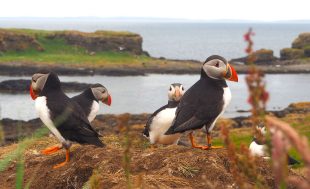 Compass Hill, Canna
If joining one of our Skye and the Small Isles cruises, which we run in July and early August, you might be in luck spotting puffins off Canna, the smallest of the Small Isles at just five miles long and a mile wide. The cliffs of Compass Hill at the east end are home to varied seabird colonies, including puffins.
Sanday
Another opportunity to spot puffins in Scotland is on Sanday, also one of the Small Isles and connected to Canna by a road bridge. Here the cliffs overlook stacks where puffins breed.
The Shiants
The Shiants are a small group of islands in the Hebrides, four miles or so off the coast of Lewis and twelve from the northern tip of Skye and of course somewhere we visit on The Corryvreckan to the Shiants cruise. The islands are home to some of the most important breeding colones of seabirds in Europe and around ten per cent of UK puffins and seven per cent of UK razorbills breed here every year.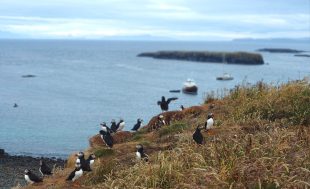 Mingulay
Mingulay is the second largest of the Bishop's Islands in the Outer Hebrides and is known for its seabird populations, including puffins, but also kittiwakes and razorbills, who all nest in the sea-cliffs which are amongst the highest in the British Isles. We visit Mingulay on the Hebridean Odyssey cruise in early June.
Ailsa Craig
Ailsa Craig is now managed as an RSPB Nature Reserve, an SSSI and designated a Special Protection Area. Let us take you there on our Arran and Ailsa Craig Wildlife Explorer cruise.
Puffins were once the most common bird breeding on the island until rats managed to come ashore, probably from shipwrecks.  The first rat was reported in 1889 and, however they got there, the rats had a devastating impact on Ailsa Craig's puffins. One ornithologist put the population at at least a quarter of a million pairs in the 1860s. There were so many, he said, that when he disturbed them, they caused "a bewildering darkness" in the sky. By 1935 Puffins were all but extinct on the island.  The Puffins nested on the ground in burrows and their eggs and chicks were easy prey from rats.  Other ground breeding birds such as petrels and gulls were similarly affected and in general all bird species declined. Eventually a rat eradication programme was launched in 1989 and success was declared in 1991.
It took a while for the Puffins to return to the island – it was not until 2002 a few pairs of Puffins returned to breed successfully on Ailsa Craig for the first time in many decades. The colony increased to ten pairs in 2004 and now at least 130 pairs breed on the rock.
Otter Ferry, Argyll and Bute
It's not as common but we do sometimes see puffins in the waters off Otter Ferry in Argyll and Bute, one of the stops when cruising out of Holy Loch, Dunoon.
So as you can see there are several opportunities to spot puffins when cruising on the West Coast of Scotland, and we'd love to help you find them. But the most important thing to remember is that timing is key!