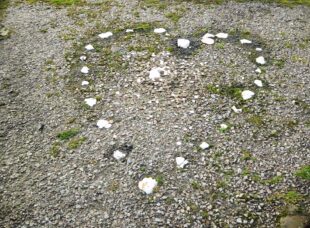 Legends of Scotland – Tales From Splendour's Wheelhouse.
From mythical monsters and giants to clan chiefs with superhuman powers and tales of tragic, unrequited love, Scotland is a land filled with myths and legends.
Splendour sails through the heart of where many of these stories are based and during the Year of Coasts and Waters we're going to share some of our favourite stories with you.
Tinkers Heart – Loch Fyne
This month's legend is an enduring puzzle, one which is unlikely to ever be solved. And that's ok because not every story has to have a beginning, a middle and an ending.
Many of our guests come to our spring and autumn home on the Holy Loch by road, choosing to travel through some of Scotland's most scenic landscapes on their way to pick up Splendour.
What many won't realise is they're passing one of the country's most important and sacred memorials to the local Travelling community, the Tinker's Heart.
The Tinker's Heart lies in a field close to the A815 junction at Cairndow, why this unassuming area was important to the travelling community is not known, but with travelling people an essential part of farming life in Argyll it clearly has some significance. If you're on any of our cruises which take you through Loch Fyne to Inveraray then ask Skipper Iain to point out its exact location to you.
It has been suggested the Tinker's Heart, which is made up of 25 white quartz stones in the shape of a heart with a 26th stone in the middle, was made by Traveller women to remember their men who had died during the 1745 Jacobite uprising. We don't know if this is true but what we know for a certainty is that generations of Travellers have come to this spot to get married, have their babies blessed, remember someone who had died, scatter ashes or conduct an important piece of business.
However, by 2010 the Tinker's Heart had fallen into a terrible state and was almost destroyed due to neglect. A campaign was started and, after a long battle, the Tinker's Heart was adopted by Historic Scotland. We can't put into words how important this decision was, the Tinker's Heart is the only physical monument that exists to celebrate the culture of the Travelling community. And, it's right here, in Argyll, that's phenomenal.
We will never know who created the Tinker's Heart, to be honest, we don't want to know, because its mystery is part of the story. What we can tell you is that it sits on private land and is protected from development, another reminder of Scotland's rich history and heritage.
So, if you're travelling to us by road and want to get off the beaten tourist track to find something utterly bewitching then look no further, the Tinker's Heart has got you covered.