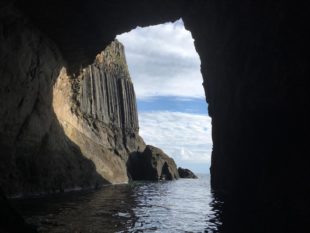 Legends of Scotland – Tales From Splendour's Wheelhouse. 
From mythical monsters and giants to clan chiefs with superhuman powers and tales of tragic, unrequited love, Scotland is a land filled with myths and legends. Splendour sails through the heart of where many of these stories are based and during the Year of Coasts and Waters we're going to share some of our favourite stories with you.
MacKinnon's Cave 
If you're booked on one of our summer west coast cruises then well done – you can look forward to a holiday you'll be talking about forever.
During summer our home port is Oban, and from there it's just a short sail towards one of our favourite islands, Mull. So, if you're lucky enough to be onboard Splendour as we sail past this glorious island ask Skipper Iain to point out MacKinnon's Cave to you.
Named after Abbot MacKinnon, who legend says was hidden there in the 15th century, MacKinnon's Cave is one of the deepest caves in the Hebrides. It became popular in 1773 when Dr Samuel Johnson and James Boswell measured it.
With this new-found popularity came notoriety and MacKinnon's Cave began to gather an aura of its own. There are many legends surrounding this dark and mysterious place including Fingal's Table. Fingal, refers to Finn MacCumhaill, an Irish giant who reputedly built a bridge from the Giant's Causeway in Ireland to the island of Staffa, specifically Fingal's Cave, which we'll talk about in a future legend post. Anyway, Fingal's Table would be fitting for a giant as it's a large, flat slab of rock, which was used as an alter by hermits and early followers of the Christian church.
Another story surrounds a piper who challenged local fairies to a piping competition in the cave. If you know anything about Scottish mythology you'll know that challenging any of the 'wee folk' is a very bad idea. The piper started playing and walked into the cave, with his dog at his side. Only the dog returned crazed and hairless, the story goes the piper went right through the hill and came out at the other side of the headland at Tiroran on Loch Scridain.
Myth, legend or true story, we'll never know. What we do know is the mystical attraction of MacKinnon's Cave brings visitors to it time and time again….