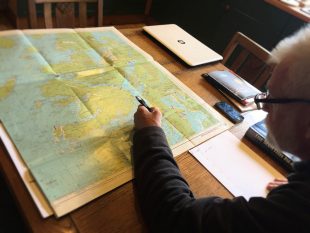 Five reasons why you'll want to discover our new Scottish Isles cruise during the 2019 season. 
We love planning new cruises, we enjoy plotting courses and we adore picking places which have special meaning to us within the Scottish Isles, which we can share with you.
That's why, drum roll please, we are delighted to announce a new cruise for 2019 – the ten night Corryvreckan to the Shiants cruise. Packed full of our favourite places and Isles, this is the cruise Skipper Iain has been planning in his head sailing the West Coast of Scotland for the last 12 months.
So, follow a different trail for your 2019 Scottish Isles cruise, and enjoy our top five tips reasons why you'll want this one in your stocking this Christmas!
1 . Natural Wonders
See one of the natural wonders of the world up close! Did you know the Corryvreckan is the world's third largest whirlpool? Lying between the islands of Scarba and Jura, it's said that when the Corryvreckan roars it can be heard ten miles away. It's an incredible sight and one which you'll never forget.
2. Fingal's Cave
Follow in the footsteps of Mendelssohn and Queen Victoria when we take you to Staffa. You'll leave Splendour from our tender which will take you into the incredible Fingal's Cave. Legend has it Fingal, or Fionn Mac Cumhaill was a warrior who built the Giant's Causeway between Scotland and Northern Ireland. While the causeway can still be seen off the coast of Northern Ireland, all remains of the Scottish part is Staffa…
3. Puffin Galore
Have you ever wondered what a quarter of a million puffins looks like? We'll answer that question for you with a trip to the Shiant Islands.
4. Peace and Tranquility
Find peace on the Scottish Isle of Iona. For centuries Iona has been known as the cradle of Christianity, and place of pilgrimage where St Columba built his first Celtic church and monastic community. Iona is a sacred island and you'll find kings of Scotland, Ireland and Norway buried here.
5. The Island of Mull
Fall in love with Tobermory. Famous as one of Scotland's most distinctive harbour fronts thanks to it's coloured houses, there's much more to discover than just a picture perfect town. If you can resist the urge to sing Balamory you'll discover the famous 'Browns' where you can buy anything from gate hinges to whisky – or even a guitar! And, there's always time for a pint in the famous Mishnish bar.
If this mix of history, natural wonders, spectacular scenery and bountiful wildlife floats your boat then get in touch. We're happy to answer questions, email Jamie at info@argyllcruising.com – but don't miss the boat, this cruise is going to book up fast.