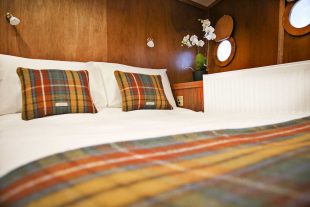 With many of our friends joining us aboard Splendour from last season, there has been an array of fantastic cards, photographs, books for the library and even a beautiful poem. Our highlight this week, has got to be Mhairi's journal of her Scottish Islands Cruise – May 2016…
Scottish Islands Cruise
Tuesday 17 May
As we approached Holy Loch Marina, we caught our first glimpse of 'Splendour' looking bright and shiny after her winter refurbishment. We were met by Iain and Jamie who escorted us to 'Splendour' which was to be our home for the next three days. We met the other guest who quickly became a member of our family for our time together on board.
4pm: we set sail – bound for Loch Ridden. The rain was bouncing off the decks but that did not detract from our enjoyment. As we sailed through the Kyles we were tucking into gingerbread and muffins – this was just the start of a three day feast! Sailing through the Kyles we were privileged to watch porpoises at play, as they swam alongside us. Dinner was served at 7.30pm and we were not disappointed: cod with herb and parmesan crust, followed by homemade sticky toffee pudding. The meal was rounded off with a lovely cheese board. As night fell, we were happy to fall into our beds: extremely comfortable double or twin beds with crisp white sheets. An added feature this year is that all cabins have toilet and shower en-suite.

Wednesday 18 May
We all gradually emerged from our cabins, enticed by the aroma of breakfast cooking. This was no snack: porridge, yoghurt, fruit juice, berry compote, finnan haddock, scrambled egg and sweetcure bacon. Toast and tea/coffee were served in limitless quantities. There is something very relaxing about eating breakfast on board as the boat swings round gently offering panoramic views of Loch Riddon. Shortly after breakfast we raised anchor and set sail for Tarbert, Loch Fyne. The weather was clearing from the West and, by the time we were tucking into our homemade cookies at 11am, the sun was shining and showing the Argyll coast in all its glory. We arrived at Tarbert and before going ashore to explore, we were served another delightful meal by Steve, the Chef: homemade cock-a-leekie soup and smoked salmon salad sandwiches.
The afternoon was spent exploring the beautiful village of Tarbert and, after returning to the boat and enjoying a delicious afternoon tea of cream scones, we set sail for Loch Gair. On the way, we were able to watch hundreds of gannets diving for fish – an amazing spectacle even in penny numbers, but in their hundreds this was quite breathtaking! Iain's expert knowledge of the area and his skill at handling the boat meant that we were able to see these magnificent birds at very close quarters. We also saw guillemots and seals who put on a special performance for us.
Iain knows the lochs around the Kyles and Isles like the back of his hand so knows exactly where to anchor in safety and tranquillity. Our second night therefore was spent in the tiny but beautiful Loch Gair which provided a majestic backdrop as we enjoyed yet another fabulous dinner by Steve!
Thursday 19 May
The weather forecast predicted heavy rain and wind – sadly it was 100% accurate. Once again, Iain knew exactly where to take us to avoid (as Iain puts it!) the 'lumpy waters'! Rothesay Bay proved to be the answer and the 'lumpy waters' were left behind. On the way we continued to scan the waters for guillemots, gannets and porpoises as well as taking in the majestic scenery surrounding us. After lunch, we spent an afternoon in Rothesay before returning to 'Splendour' where delicious homemade Red Velvet Cake was waiting for us! After dinner, one of our party decided she wanted to go kayaking round Rothesay Bay. The flat calm bay provided the perfect arena for Jill as she paddled about the bay as night began to fall.

Friday 20 May
Following breakfast (gorgeous Loch Fyne kippers) we raised anchor and set sail up the Clyde for the Holy Loch where our trip came to an end. The sail from Rothesay to Dunoon was spectacular, with the sun bringing out all the colours of the coastline. We kept our eyes peeled for a whale who had put in an appearance on the previous cruise. Sadly he didn't appear – maybe next time?!
The Clyde and the surrounding mountains and lochs cannot fail to impress but what makes this cruise so special is the personal attention given by everyone involved in Argyll Cruising. Jamie in the Office could not have been more helpful at the booking stage, and on board Iain and Steve went out their way to ensure everyone was catered for. There was no pressure to do anything but the opportunity to do plenty! Thanks to all at Argyll Cruising for a fabulous three days but how about some better weather next time?!!
Mhairi
(Unfortunately we can not predict the Scottish weather but we can offer a truly unique experience in and around the Scottish Islands cruise. A very big thank you to Mhairi for sending in her journal and for joining us again on Splendour. We hope to welcome you back aboard in 2017 for the annual family gathering! Mhairi joined us for our 3-night Kyles and the Isles cruise)