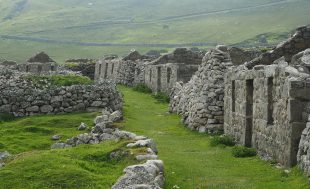 Cruise Scotland: Hebrides & St Kilda Cruise – set sail on our Hebrides and St Kilda explorer cruise (available for Private Charter only (June to August). The cruising area teems with wildlife from black guillemots, puffins, common and grey seals to dolphins, minke and killer whales. You just don't know what you will see around the next headland. Going ashore is part of the fun. Remote sea caves and beaches waiting to be explored. Once forgotten blackhouses and villages await your discovery.
Check availability for the Hebrides and St Kilda cruise >
---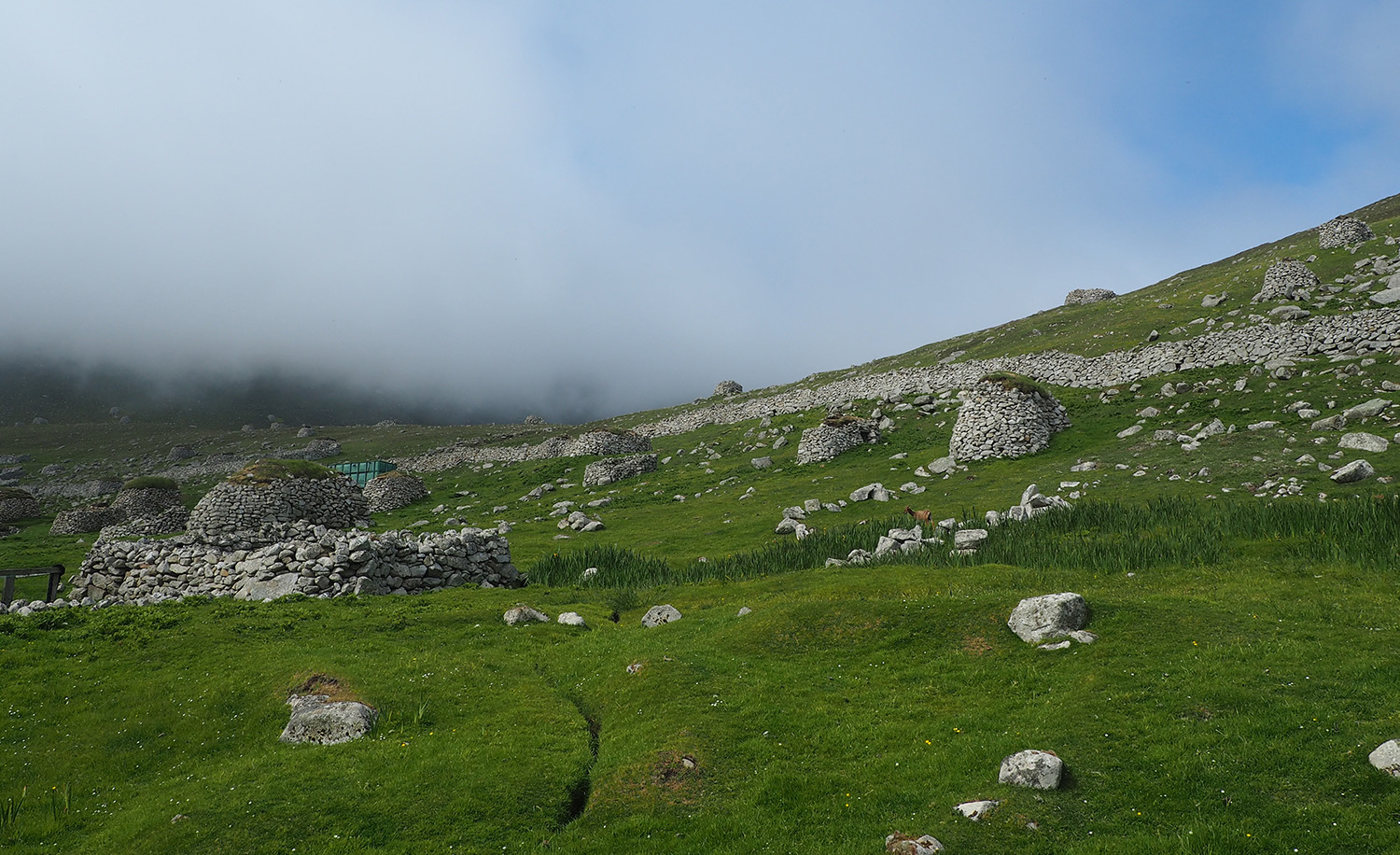 Cruise Scotland: Hebrides & St Kilda Cruise
Canna – The jewel in the Hebridean crown. Canna rivals Iona with its feeling of serenity. Walk on a carpet of wildflowers on the linked neighbouring island of Sanday. Cruise under the cliffs of Compass Hill for a chance of golden and white-tailed eagles. Keeping an eye open for minke whales, dolphins and basking sharks.
Tarbert – Enjoy a walk across the narrow isthmus to West Loch. Rummage for a stylish gift in the tweed shop. Visit the iconic Tarbert stores selling everything from a nail to a cement mixer.
St Kilda – The most remote outpost of the Scottish Islands famously abandoned in 1930 by a beleaguered population. Awesome seabird cliffs and beautiful village bay, a testament to the tough islanders who once called this home.
Lewis – Enjoy a private land tour around this beautiful island. Visit the distant past at Callanish with its stone circle and it's not so distant past at Gerrennan with its black houses. The white sand beaches on the west coast are stunningly beautiful and Stornoway a bustling hub of activity.
The Shaints – A birders paradise, some 250,000 seabirds nest here in spring/summer. Land on the beach joining Eilean at Tighe and Garbh Eilean to explore this stunning island group.
Skye – Look out for killer whales and common dolphins on this part of our cruise. Portree is a colourful little town with interesting shops. Loch Curuisk nestling in the cradle of the black Cuillins is, without doubt, one of the best views in Scotland.
Muck – Port Mor is a wonderful natural harbour from which to explore this productive little island. Seals line the rocks, the call of corncrakes fill the air, whilst sea eagles patrol overhead.
Lunga – This is the largest of the Treshnish Isles, an otherworldly string of volcanic islands west of Mull. The puffin colony is accessible with a short climb up the cliff path rewarded by puffin close-ups which are unsurpassed.
Please note St Kilda is one of our main destinations but cannot be guaranteed due to its remote location. If the weather does not permit there are many other fascinating and magical areas of the Hebrides, which we will explore. The skipper will make the final decision depending on the weather conditions.
---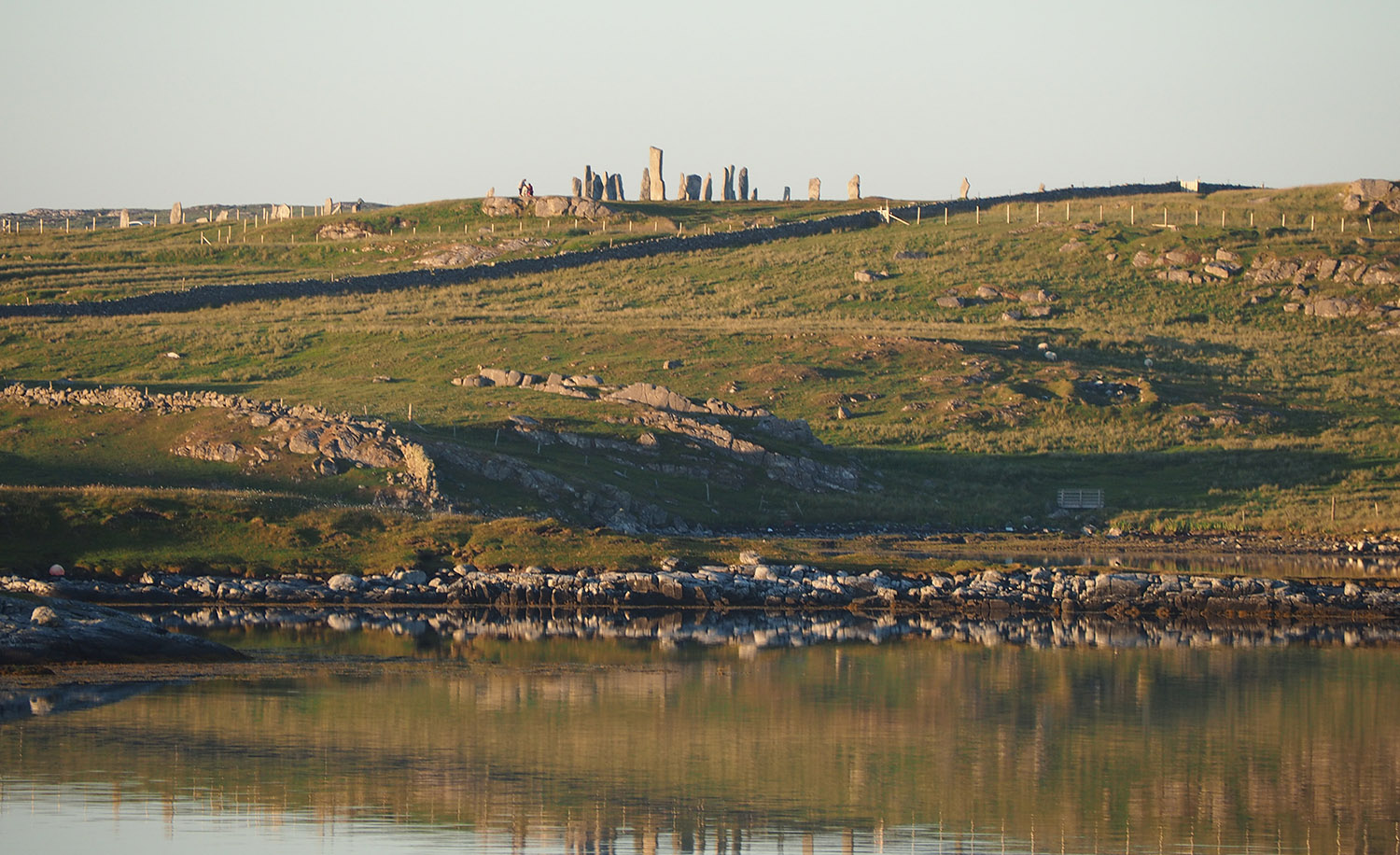 Cruise Itinerary
Day 1 – Board Splendour at Midday in Oban Harbour and after a highland welcome and the skippers briefing set sail for the island of Canna for dinner and an exciting first night aboard.
Day 2 – Explore Canna and its tidal neighbour Sanday with its churches, rabbits and wildflowers galore. Cruise past the nesting cliffs with Golden and Sea Eagles, Puffins, Kittiwakes, Fulmars and Guillemots, before heading off west across the Minch to Castlebay on Barra for an overnight anchorage.
Day 3 – Take a trip to Kisimul Castle erstwhile home to the MacNeils of Barra back aboard for coffee and a cruise to Mingulay to visit the ruins and sand dunes of village bay. Set sail up the coast to overnight in Loch Boisdale or, if the weather is settled, relax onboard for the voyage to the other village bay on St Kilda.
Day 4 – If the weather wasn't kind enough for St Kilda we press on for the Uists and Benbecula. A trip ashore in Tarbert for a walk to the west loch and a visit to the tweed shop and an amazing general store. We overnight here in East Loch Tarbert.
Day 5 – Cruise to Stornaway with a stopover for lunch in one of the many sea lochs. Explore the town of Stornoway with its many interesting shops. Overnight moored to the quayside.
Day 6 – Enjoy a private tour of Lewis seeing the sights such as the standing stones of Callanish, the Broch at Carrloway and the street of blackhouses at Garenin. Depart Stornoway around 1600hrs and motor around the coast for overnight anchorage in Loch Shell.
Day 7 – After breakfast, we're off to the Shiants, which abound with birdlife, especially puffins, around 250,000 of them. Here we can go ashore on the pebble beach between Garbh Eilein and Eilean An Tighe to explore these fantastic islands. Back on board for lunch, we head south past cliffs, waterfalls, kilt rock and the island of Rhona to anchor overnight in the harbour at Portree on Skye.
Day 8 – Ashore to visit the colourful bustling town of Portree with its shops, pubs and galleries. Back on board for lunch, we continue south to visit the island of Raasay for a walk onshore, then head east across the inner sound for a night off Plockton.
Day 9 – A walk on shore in the picturesque village of Plockton then we head off under the Skye bridge and down Kyle Rhea, looking for otters and dolphins. Go ashore for an evening drink at the Old Forge Inn at Inverie, the most remote pub in Britain.
Day 10 – An early start down the Sound of Sleat and anchor in Loch Scavaig or loch Na Cuilse, for a walk to awesome Loch Coruisk in the heart of the Black Cuillin mountains. Next stop is the island of Rhum with its own Cuillins for an overnight anchorage in Loch Scresort, enjoy an evening shore trip to the otter hides.
Day 11 – South from Rhum lies the bucolic island of Muck where a walk from Port Mor to the north bay is a delight with an interesting cemetery, craft shop and another chance for otter spotting. Now we leave the small isles behind for an overnight stop in Loch Eatharna on the island of Coll. On this trip, we have an excellent chance of spotting whales, basking sharks and dolphins, all of which feed in these waters.
Day 12 – After breakfast walk to the beach on the west side of Coll or hire a bicycle at the hotel for a serious bit of exercise. Back onboard for lunch whilst Splendour makes her way across to Lunga – one of the Treshnish Isles – for a close encounter of the Puffin kind. Then east to Ulva / Gometra for a wonderful anchorage between the islands.
Day 13 – After breakfast walk on Gometra for an excellent chance of Sea Eagle spotting before returning to the boat for a cruise round to Tobermory and a stroll along its colourful harbour front. Dinner onboard and talk about our fantastic voyage through Scotland's wonderful island world.
Day 14 – An early start for the crew and it's off down the sound of Mull, again keeping a look out for dolphins escorting us back to Oban Bay. What a wonderful trip!!
---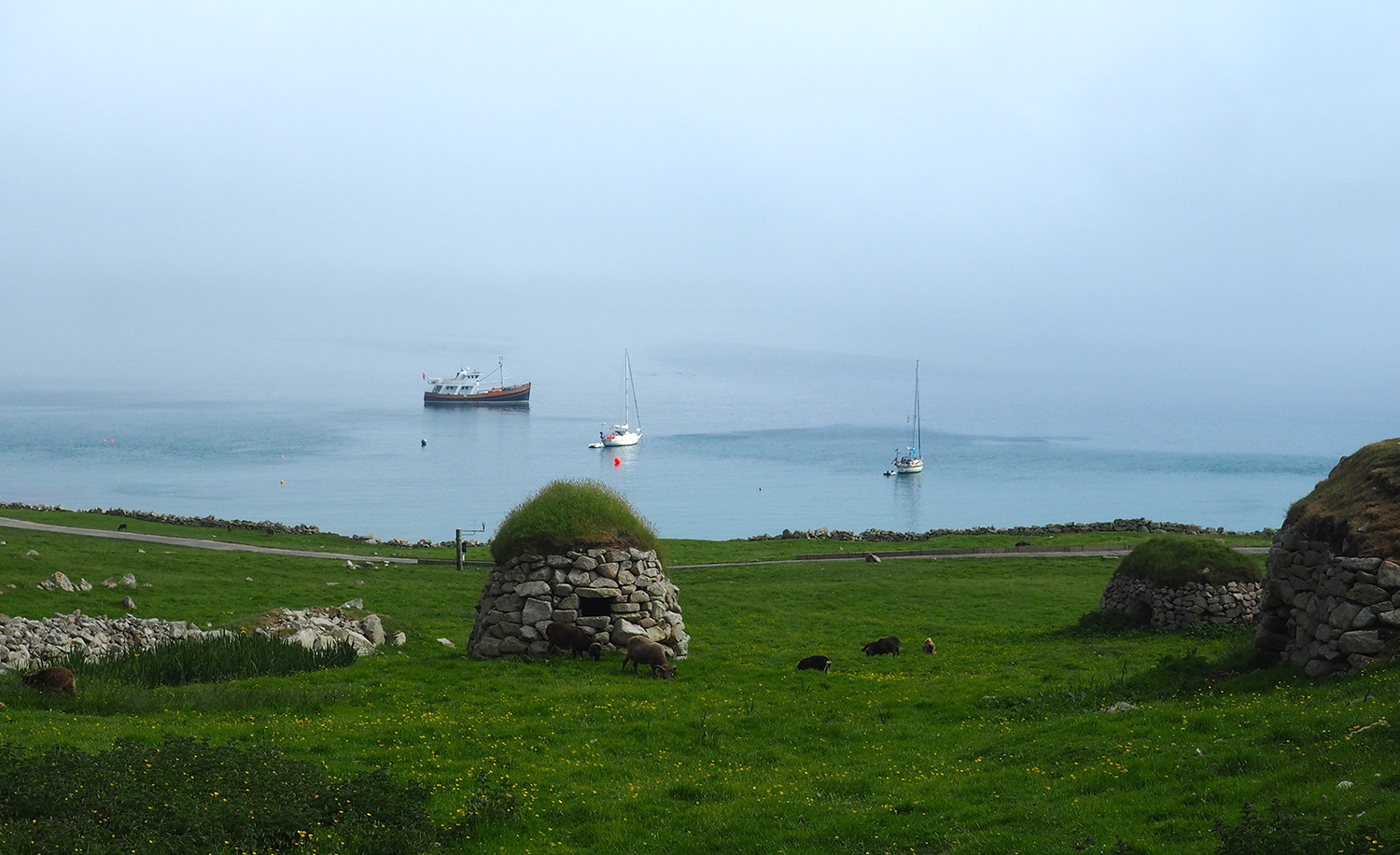 Pricing and Availability
From £3510 p/p (Complete with ensuite cabin) / From £25,272 Private Charter 
Cruise Scotland: Hebrides & St Kilda Cruise – Check availability for the Hebrides and St Kilda cruise >
---
Argyll Cruising offers 9 unique Scottish Cruises, visiting the inlets and islands of Argyll, Arran and the Outer Hebrides.
Cruise Scotland in style with Argyll Cruising.