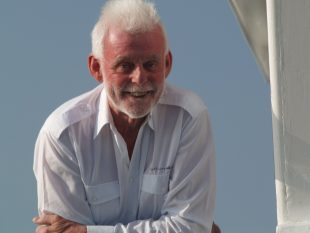 Why booking a cruise Scotland 2020 is a visionary idea!
You're never far from the sea in Argyll which is why we were excited at VisitScotland's announcement that 2020 is to be the Year of Coast and Waters. Skipper Iain and Shoreman Jamie have been locked in Splendour's wheelhouse to come up with a cruise Scotland 2020 calendar to celebrate this very special year and we're delighted to say the results are fantastic. We've taken everything you said you love about our Scottish cruises and put an Argyll Cruising twist on it, find out why we think you'd be short-sighted not to book your 2020 cruise now.
First-time cruisers can stretch their sea legs on a sheltered water trip
Our three-night Clyde cruises will take place in spring and autumn giving guests on their first cruise a chance to enjoy the experience on sheltered water.
Bucket list destinations on Mull mini-cruises
We've expanded our 3-night Mull mini-cruise calendar. You can expect to see everything from Sea Eagles to the stunning Fingal's Cave in one three-night package from Oban. These are perfect for overseas visitors who are on holiday in Scotland but don't have the time to fit in a whole week on the water.
Wild about wildlife
Our wildlife cruises are back and we've rescheduled them to allow you to see more of what you love. Expect to wowed when you get up close to colonies of Puffins or be speechless when a majestic Golden Eagle soars overhead. Never seen a Dolphin or a Porpoise in the wild? Skipper Iain will take you to the wildlife hotspots, so whatever you do, don't forget your camera.
More chances to take Skipper Iain's favourite cruise
It took him a lifetime to compose his personal bucket list trip, but we finally managed to get Skipper Iain to write it down for 2019. And we're bringing it back not once, but twice for cruise Scotland 2020, it is, of course, Corryvreckan to the Shiants. This ten-night cruise is for true adventurers as it takes in some breathtaking sights and sounds. Want to see the world's third largest whirlpool? Tick. Want to be in the place where legends were created? Tick. Want to see what a quarter of a million Puffins looks like in one place? Yes, we've got that one too…
We've got all this and much more. Whether you want to eat the best ice-cream on the west coast or find Skipper Iain's favourite tweed shop we've got it. In fact, there's so much to see and do for one season crammed into the cruise Scotland 2020 calendar we're finding it difficult to keep a lid on it. Just as well it's available to book now!