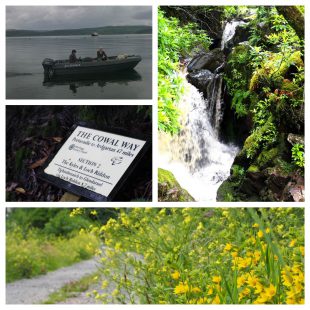 We 're currently cruising Loch Fyne on our sold out 6-night, Inlets and Islands of Wild Argyll cruise with a detour to Inveraray to take in their Highland Games of 2015.
During our last cruise we had the absolute pleasure to welcome the Norris family aboard 'Splendour' for their private cruise charter of the whole vessel.
Once aboard and feeling at home in Splendour's cosy dining saloon the corks were popped to start the celebrations. We slipped the mooring lines and headed for Rothesay where a lone piper played the ships company into the bay in style.
The following day all ashore to the village of Tighnabruaich, the party split to make the most out of the day. A highlight of this rural community is the fabulous Caladh walk, part of the Cowal Way, with rushing waterfalls, ancient woodlands and spectacular views of the Burnt Isles. With some of the group heading off the beaten track along Argyll's Secret Coast the others enjoyed a stroll through the village itself with stop offs at the amazing Tig Gallery.
With special moments throughout the cruise, guests and crew alike were spoilt with unrivalled sunsets after dinner and drinks prepared by Mike our onboard chef, with delicacies such as the freshest hand-dived seafood and venison from the hills of Argyll by Winston Churchill Venison. We pride ourselves on only using fresh ingredients from within our cruising grounds. We even go as far as stocking our small bar with Whisky from our friends at Arran Distillery and Gin from the local distillery of Campbeltown, which proved a great hit. Argyll Cruising shore team Jamie and Oscar had to replenish the stock – it was a welcome out of office trip for both!
The Norris family parted with well wishes, kind words and hatching of plans for their travels next year;
'The many splendours of the splendour and her crew far, far outdid our expectations – who needs a super-yacht when you have the finest vessel and compliment of crew. Thank you from the bottom of our hearts and stomachs, for the time of our lives!'
Haste Ye Back!
Want to test your sea legs? We have 3-night sheltered cruises setting sail in October 2015 with a fantastic 20% discount. Visit our cruise calendar to check your dates, contact Jamie to find out more…