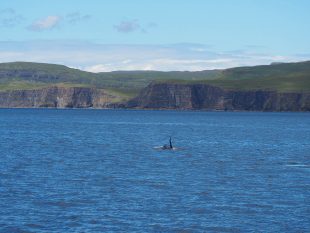 As a small family owned and operated company, here at Argyll Cruising we like to offer the personal touch from start to finish. This season the same can be said about Scotland's wildlife! It really has put on quite the display!
Record Sightings
Our 2017 season really has been a year for up close and personal wildlife encounters.
During the recent 13-night Hebridean Odyssey cruise our guests onboard spotted over 50 species of birds from fulmars to puffins and recorded another 20 significant sightings. One of the real highlights was an extremely large bull Orca that overtook Splendour. Known as John Coe he is one of the most recognisable male Orca's on the west coast of Scotland with his large notched dorsal fin. Hebridean Whale and Dolphin Trust report that there are only 8 remaining members of the west coast community. A rare treat to see these majestic animals for all guests aboard Splendour.
Minke Whale Video
Not to be outdone, returning guests Tina and Chris have taken many videos of their latest cruise aboard Splendour, we've attached one of their videos of a very inquisitive young Minke Whale. More to follow….
For Minke whale sightings typically our 6-night Arran and Ailsa Craig Wildlife Explorer cruise is best with the second most sightings on the 6-night Inlets and Islands of Wild Argyll cruise.
Cruise Availability 2018 & 2017
Our 2018 cruise calendar is live with some cruise itineraries full already – early booking is advised to avoid disappointment of your preferred cruise date and its not too late to join us this season, we've just had a cancelation for our 6-night cruise departing from Holy Loch on 14th October 2017.
If you have any queries please do contact Jamie our shore man, who is happy to help with all questions.