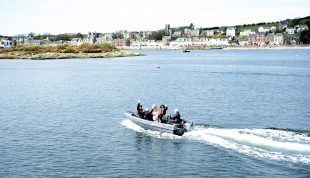 Solo Travel Cruises
Do you yearn for the call of the sea and a Scottish cruise? Are you discouraged from travelling solo because of added solo travel supplements and surcharges? Well you'll love that Argyll Cruising has just announced an end to the single traveller supplement!
We know that travelling solo is an option and we'd like you to choose to spend your holiday with us, onboard Splendour on one of our many Clyde or West Coast cruises. Look for the solo travel / single cabin available icon on our website, choose your cruise, book online and then wait for your ship to dock! It really is as simple as that.
Over the last three seasons we've seen more solo travellers booking with us. In fact, this year we are offering two cabins for single occupancy.
While many travellers expect to pay a supplement, we took the decision, at the end of our 2017 season, that this was an unfair charge. We want our holidays to be open to everyone – with everyone paying the same price for their cabin. That's why we're happy to break the stereotype and offer single cabins with no solo travel supplement.
With each of our bespoke cruises holding a maximum of eight guests, you'll be in excellent company, so weather you want to meet new people, travel with a friend but prefer your own cabin, speak with Jamie to book your cruise that will create memories lasting a life time…
All cabins onboard Splendour, including solo travellers cabins, boast double beds, private ensuite facilities and quality linens to ensure the perfect nights rest before the next days adventure.