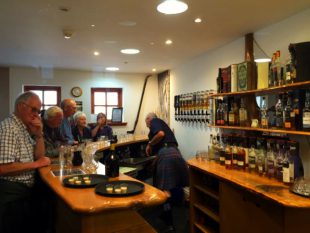 Living Better 50 | Travel Writer Review
We were delighted to welcome American travel writers Norine and Joy from Living Better 50 earlier this season. A great read to find out why your next holiday should be with Argyll Cruising! Norine joined Splendour for the 6-night Villages and Gardens of South Argyll cruise.
"Explore Western Scotland with Argyll Cruising
As a travel enthusiast I have found that cruises are a great way to see the world. Enjoying ports of call, wonderful food, activities and relationships all without the hassle of pulling your luggage around. With Argyll Cruising it is so much more as you are welcomed on board the exclusive trawler yacht, Splendour and nestle into your ensuite cabin.
I was so impressed with the hospitality shown to all the guests. Because it is a small cruise (8 guests) there are many benefits, which I truly enjoyed including smaller crowds, intimate relationships, and personalized care to name just a few.
Scotland's western coastline has so much to offer with it's lush rolling green hills, quaint villages, castles, gardens, and wildlife. Yet, how about seeing it without the crowds. On this personalized tour guests are encouraged to share their thoughts and desires for the trip. One of the couples, David and Cynthia from Washington State, asked if we had time to include a Scotch whiskey distillery. We took a vote and all agreed it would be a great complement to our tour. Iain checked our trip schedule and altered our course to include the Isle of Arran Distillery.
And, yes, indeed it was a wonderful addition to our cruise as expected. We learned about the history of the area as well as the process of making Scotch whiskey and as with most tours we were invited to taste a few samples ourselves to include a 14-year-old whiskey. It was a lovely afternoon for all as we also enjoyed the beautiful country stroll with deer, sheep and fowl abounding as well as time to explore a small castle ruin along the shore.
Argyll Cruising is a family business where Iain Duncan is both Skipper and Owner. Jamie, his son, stays ashore managing the office. Jamie was our point person. Not only did he meet us at the ferry when we arrived, but he also assisted me with all the detail of our trip. This family genuinely cares about service thus making sure the guests enjoy the best possible experience. Therefore, it wasn't surprising to learn that some of the guests on our trip were on their third voyage with Iain.
The only other staff on board the Splendour is chef Steve Boswell whose gift for cooking traditional Scottish cuisine was exceptional. Every, and I mean, every meal was fabulous from breakfast to dinner. Often I had to remind myself not to eat too much. With joy in my heart and stomach I at least tried a bite of each dish never to be disappointed.
The day prior to our voyage I had lunch at The Piper Pub in Glasgow. During a conversation with Iain I shared that I regretted not having tried their Whiskey Chocolate Cheesecake on the menu, as I was too full from devouring every bite of my Shepard's Pie. Later, I overheard Iain ask Steve if he could make it for me. Steve's answer was that he had an even better recipe. To my longing, yet pleasant surprise, on one of the evenings he served a mouth watering Chocolate Whiskey Torte. It was delicious! He even gave me a piece to take back to my cabin. Soon Steve will be publishing a cookbook, but for now you can find him on Facebook @CookingInSplendour.
The picturesque scenery, great accommodations, and tantalizing food coupled with great hospitality are unforgettable. In future articles I will share more in depth about this wonderful adventure with Argyll Cruising to include sites like Kylemore Abbey, Inveraray Castle and of course my favorite, a visit to Mount Stuart on the Isle of Bute.
If you are thinking of traveling to Scotland this year make sure to check out Argyll Cruising. The stunning coastlines venues of Argyll, the Outer Hebrides, and Arran felt like going back in time and walking in the footsteps with characters from the scenes of the Highlander, Rob Roy, Brave Heart, or Outlander. Dare to fulfill your dream by taking a vacation to the Scottish Isles. Step onboard the Splendour with Iain Duncan and family for a spectacular trip of a lifetime."