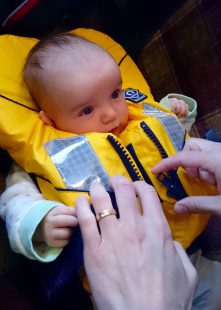 Following our latest 'Skippers Log | Family Cruise' the Lake family have sent us adorable photos of Ewan and Sarah's first born, Edward.
Eddie is our youngest guest to have been onboard 'Splendour' to enjoy the magnificent Argyll coastline. We have to say it was a great pleasure to welcome him aboard and supply him with his very own lifejacket.
Proud grandparents, Andrew and Sue, who organised the family cruise late last year sent in a splendid email thanking us for their special memories for all the family, including great grandfather Bob.
Below we have quoted Andrews email – we couldn't have said it any better ourselves…
'On behalf of my family, I wanted you to know how much we have all enjoyed our holiday on Splendour last week. We wanted to spend time together to get to know our new grandson, Eddie.
From the start you were positively encouraging about us bringing Eddie despite him being so young, not quite yet 4 months old.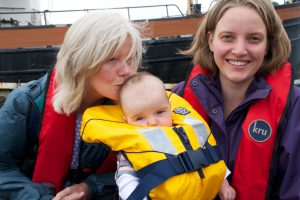 Our gathered family spanned four generations so one would expect that we all had quite different needs. Splendour has provided a stress free home from home where we have all been able to share some quite remarkable experiences. With the exception of Eddie, I am sure the rest of us will always remember arriving at Ailsa Craig and sailing around the island where we stopped at the western cliffs and took in the remarkable sights and sounds of the nesting birds, the cacophony of chanting, the birds climbing on the thermals and then diving into the sea in front of us.
We have enjoyed walks together, the younger family members climbed to the peak of Ailsa Craig, we have fished most evenings, (Ewan and Matt being successful with the help of Katherine's saved duck skin bait), set crab pots, taken turns at the controls of the tender; there has been something for each of us. Iain you have enthused us with your encyclopaedic knowledge of the area and the wildlife.
Finally I must pay tribute to Mike who has provided us all the most incredible feast which has demonstrated such a range of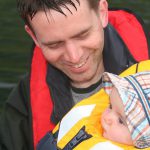 cuisine, all of it excellent'.
We have to agree that there is no better family holiday than messing about on the water. Our 2016 calendar is now on our website with excellent availability for family cruise holidays. We are also offering 2016 cruises at 2015 prices until September 30th 2015. Please do get in touch if you, like the Lakes, want to enjoy an unforgettable family holiday.
Our next Skippers Log is coming soon! Ciao for now.