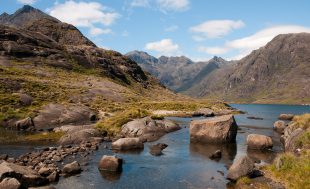 Cruise Scotland: Skye and the Small Isles Cruise – Our Skye and the Small Isles Cruise encapsulates everything that the Hebrides has to offer from the enchanting wildflower meadows of Sanday to the towering heights of the black cullin range on Skye. The marine wildlife in this area is rich and diverse especially through the summer months as the shoals of sandeel, sprat, herring, and mackerel bring with them many varied predators from the tiny puffins and black guillemot, through to common and grey seals, common and bottlenose dolphins to minke and killer whales. This cruise is a treat for all the senses.
Check availability for the Skye and the Small Isles Cruise >
---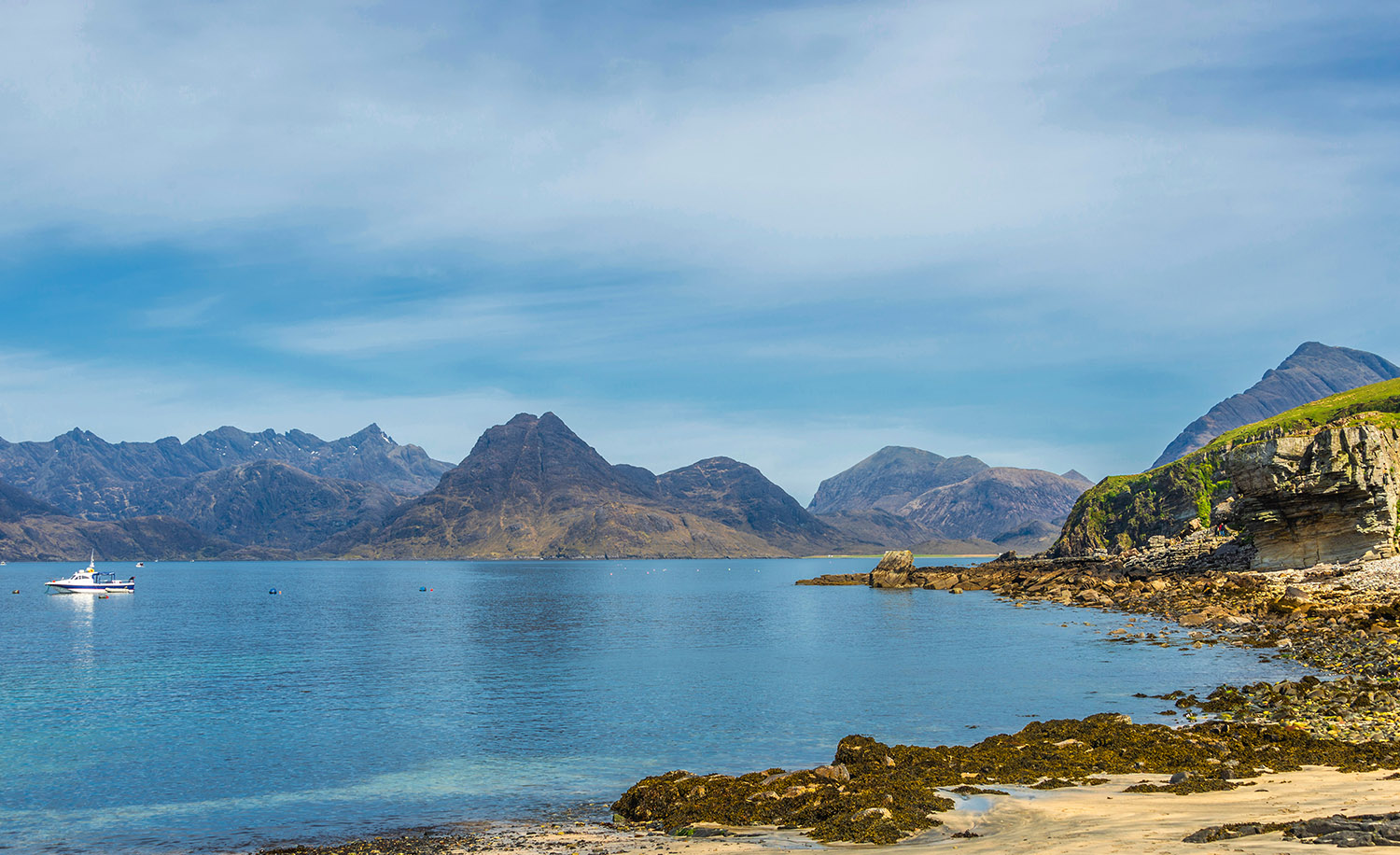 Cruise Summary
Isle of Muck – This is a green low lying island with a gentle atmosphere. There are crafts for sale and a very moving tribute to an unknown sailor in the cemetery on the walk from Port Mor to Gallanach Bay. Porpoises and otters can be seen at Gallanach. Minke whales are often seen in the approaches to Port Mor.
Loch Curuisk – No visit to Skye is complete without visiting this freshwater loch, lying deep in the black cuillins. The cuillins themselves provide a spectacular backdrop to this most photogenic of lochs. Why not take a wild swim in the loch, you will not find a more dramatic setting.
Canna – Is a beautiful and extremely varied island and between it and its near neighbour, Sanday is a wonderful anchorage. The cliffs of Compass Hill are home to varied seabird colonies and golden and white-tailed eagles hunt along these cliffs looking for a meal. The wildflower meadows of Sanday are a delight to walk through at this time of year.
Inverie – The beautiful inlet that is loch Nevis makes an interesting change from the island seascapes as it is much more highland than island. Red deer roam the hills and can be spotted from Splendour. Enjoy a beverage, sitting outside the 'old forge inn' basking in the yellow light of the sun setting over the cuillins of Rhum. An experience which will live in the memory for a long time.
---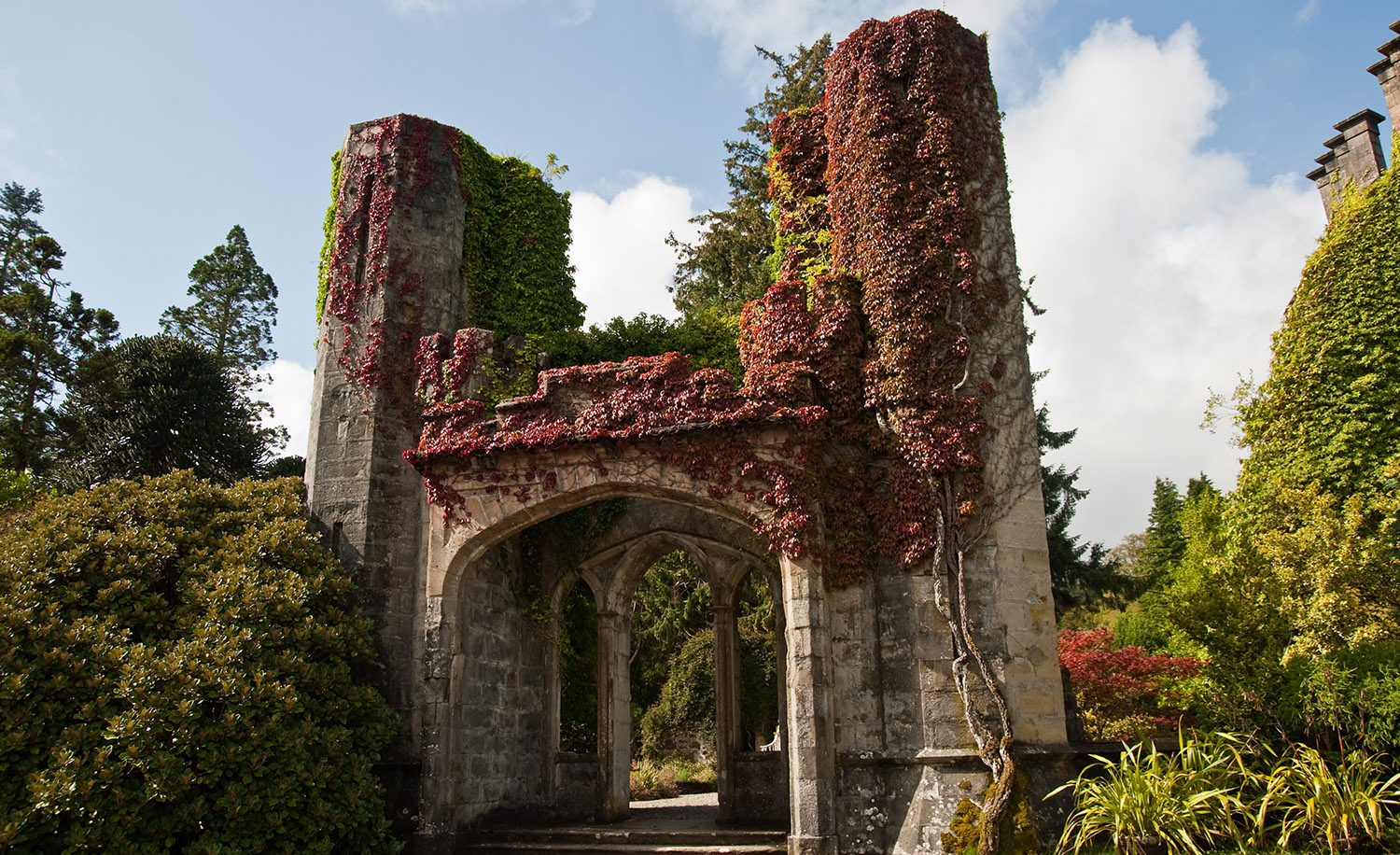 Cruise Itinerary
Day 1 – Board Splendour, by tender, in Oban for a welcome glass of fizz and skipper's briefing. Set sail for the colourfull seaside village of Tobermory on Mull for your first night onboard.
Day 2 – After breakfast we're off round Ardnamurchan Point (the most westerly point of the British mainland) and north to the fertile island of muck. There's time before lunch for a walk to the north bay and to look for otters and porpoises. Lunch is served aboard Splendour then its north to the island of Rhum for a visit to Kinloch Castle. The waters around the small isles are a favourite haunt of Minke Whales, basking sharks and dolphins.
Day 3 – A trip to the fabulous cuillins of Skye is an unforgettable experience. We anchor in Loch Scavaig for a walk to Loch Coruisk, which is in the old crater of the volcano which formed the cuillin range. There is a huge colony of 100 plus common seals here. They have their tiny black young at this time of year and unlike the greys, they can swim as soon as they are born. An evening cruise takes us past cliffs and sea caves to Loch Harport for overnight anchorage with the crofting township of Carbost and the towering black cullin range as a backdrop.
Day 4 – A visit to the Talisker distillery is a possibility this morning before we set sail for the jewel of the small isles, Canna. Here we drift past the towering cliffs of compass hill 600 ft high and home to sea and golden eagles, fulmars, kittiwakes, shags, cormorants, guillemots and puffins. A walk ashore before dinner is a must with a visit to the flower meadows of Sanday, a treasure.
Day 5 – After a hearty breakfast Splendour heads east along the north shore of Rhum to look for its famous Red Deer herd en route for the island of Eigg and a visit ashore by tender. Next it's off for a cruise up the sound of Sleat to Inverie in Loch Nevis for a pint at the old forge (the most remote pub in Britain) before dinner and settling down for the night.
Day 6 – Head north to Skye today and a visit to the clan Donald centre in Armadale before setting sail for Tobermory on the return journey. A stroll in Tobermory before dinner and chat on your last night aboard.
Day 7 – At 7.30 we lift anchor and head off down the sound of Mull for departure at Oban around 1100hrs. An unforgettable trip through this scenic part of the west coast.
---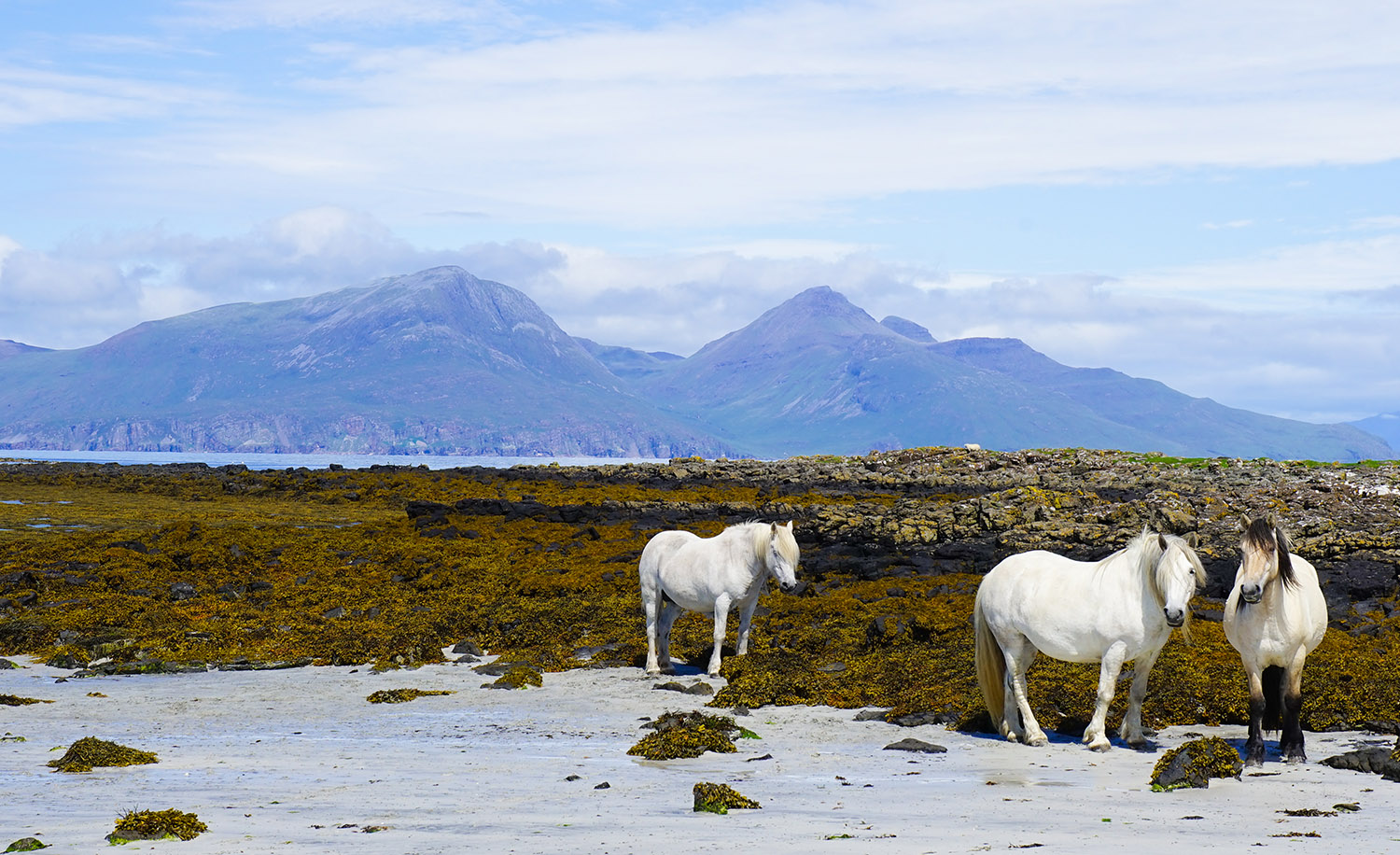 Pricing and Availability
From £1755 p/p (Complete with ensuite cabin) / From £12,635 Private Charter 
Check availability for the Skye and the Small Isles Cruise >
---
Argyll Cruising offers 9 unique Scottish Cruises, visiting the inlets and islands of Argyll, Arran and the Outer Hebrides.
Cruise around Scotland in style with Argyll Cruising.