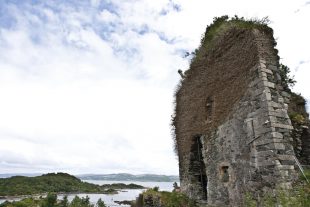 Robert the Bruce, (1274 – 1329) was the king of the Scots who secured Scotland's independence. Throughout our cruising area, we can cruise in the footsteps of Robert the Bruce within Argyll and Arran and visit fascinating links to his reign.
A favourite first night anchorage is Carrick Castle in Loch Goil, providing an idyllic anchorage and backdrop to dinner on board. The Castle is believed to have been built in the 12th century as a hunting seat of the Scots king.
In spring of 1307, Robert the Bruce drove Henry Percy from the Castle before conducting a guerrilla war against Edward I of England. Edward had given the Castle, which belonged to Robert, to Percy. In 1368 it then passed on to the Campbell Earls of Argyll. Mary Queen of Scots also visited Carrick Castle in 1563.
A further reminder of the reign of Robert the Bruce is Tarbert Castle, a scheduled monument of national importance because of the major role which Robert the Bruce played in its enlargement in C1325. It was reinforced with the addition on an outer bailey of towers because of its strategic defence location. From our anchorage in the pretty village of Tarbert on the shores of Loch Fyne, the ruins of Tarbert Castle dominate the skyline. A short walk will take you there and provide stunning views of the Kyles of Bute.
Continuing on a cruise up the length of Loch Fyne we come to Inveraray and a visit to Inveraray Castle, the current seat of the Chief of Clan Campbell. The Campbells were firm supporters of King Robert the Bruce and benefited from his successes with grants of lands, titles and good marriages. During the Wars of Scottish Independence the Campbells fought for Scotland at the Battle of Bannockburn in 1314. During the 14th century the Clan Campbell rapidly expanded its lands and power. This is partly explained by the loyalty of Sir Neil to the cause of Robert the Bruce – a loyalty which was rewarded with the marriage to Bruce's sister Mary.
The isles of Bute and Arran were also strategically important for Robert the Bruce in ousting Edward's armies and securing the area again for Scotland. Following his escape from the English after his coronation and defeat at the Battle of Methven, Robert the Bruce is said to have had his legendary encounter with a spider the Isle of Arran. Brodick Castle on Arran was one of the first Castles to fall to him in 1307. Rothesay Castle and town on the Isle of Bute were regained in 1311.
The cruise which will take you to discover more about this amazing slice of Scottish history is our Historic Villages & Gardens of South Argyll 6-night cruise with departures from May – October.