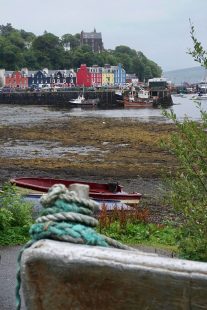 Discover why we think Mull is magnificent on our 6-night cruise around Mull – NEW for 2020
Thank you to everyone who told us they wanted more from Mull. We've put our heads together and come up with what we think is a really special six-night cruise around Mull called the 'Magnificent Island of Mull Cruise' taking in Mull but also slipping in some other surprises. Get ready to come on board and discover Mull, and its neighbours, on this very special trip.
Mull
Offering so much more than stunning vistas and amazing views (though we've yet to see a bad view cruising around Mull), you'll find a wealth of wildlife in the water, on land and way above your head. Did you know Mull is famous for its sea eagles? You might also spot Golden Eagles on your cruise around Mull so we'd recommend you head to Splendour's upper deck for the best chance of spotting these stunning creatures.
What you may not know, but we know very well, is Mull has an abundant natural larder. The seas around Mull are beautifully clear so you can expect to see fresh fish and shellfish which is literally the catch of the day on menus across the island. Mull also boats a mussel farm as well as traditional hillside farms where the animals are born and raised, producing some of the best meat in the country. You'll find Mull cheeses, vegetables, fruit and even chocolate. It's so good that they've produced their own food trail, where you can literally eat your way around the island. That's our kind of map!
Staffa
It's not often you can visit a place which has inspired both Queen Victoria and Pink Floyd in equal measure, but you will when you visit Staffa! Most famous for the legendary Fingal's Cave, Staffa is a true bucket list destination. The cave is too small for Splendour but we'll take you in on Splendour's tender and we'll expect to hear 'wow'! This legendary cave is formed entirely from hexagonally jointed basalt columns was the inspiration for Felix Mendelssohn to write the Hebrides (Fingal's Cave) Overture.
Iona
The birthplace of Christianity, Iona is home to just 120 people. Each year this tiny island, which is just 3 miles x 1.5 miles and home to just 120 residents, attracts around 130,000 visitors each year on their own pilgrimage. One of our daily excursions offers the opportunity to go onshore to Iona and visit the Abbey.
Ulva and Gometra
Have you ever fancied living off-grid? We'll take you to two islands where off-grid is a way of life. Totally unspoilt Ulva and tiny Gometra lie off the north-west coast of Mull and offer an insight into complete self-sustainability. What they may lack in amenities they more than make up for in their stunning landscapes, unspoilt beaches and car-less tracks offer the ultimate is escaping from it all.
Wildlife
Wildlife fans should make sure they've got extra batteries at all times because the amount of wildlife throughout a cruise around Mull is astounding. Expect to see dolphins, otters, white-tailed eagles, guillemots and (we love these guys) puffins! We also regularly see passing minke whales.
The Magnificence of Mull Cruise is available for the first time during the 2020 season – we're looking forward to welcoming you onboard and cruise around Mull in style!