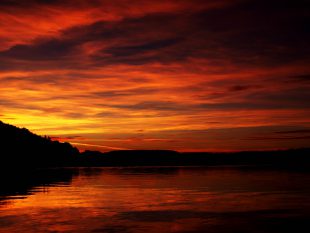 5 Reasons Why You Should Cruise Into Autumn
While you traditionally may think the best time to book a cruise is in spring and summer, we're here to ask you to consider autumn as the new top cruise season. Offset summer's promise of good weather and lots of wildlife spotting possibilities with our five  reasons why you should cruise into Autumn and we hope to see you on our final cruises of the year.
1. Spectacular Scenery
We're big fans of spring, especially during rhododendron season when the west coast is alive with colour, but the same is true for autumn. As the days start to shorten the hillsides come alive as trees turn and leaves become burnished browns, flaming reds and glittering golds.  Take your front row seat from Splendour's deck and watch as Mother Nature puts on a final spectacular display before winter closes in.
2. Dark Skies
We are blessed to have very low light pollution on the west coast of Scotland. And, as the sun disappears for the day and the sky turns black, grab a hot chocolate and keep looking up as the wonders of the galaxy unfold above you. Skipper Iain will take you on an intergalactic trip (all from Splendour's deck) as he shows you the major stars and planets and how seafarers used these to plot their course. It's a great idea to download a stargazing app before you arrive to identify planets and constellations.
3. Prepare for Winter
Winter seems much shorter when you holiday in autumn – especially if you have another cruise booked for spring! Swap shorts and t-shirts for jumpers and jeans and be prepared to fall in love with Scotland as morning mists create atmospheric scenery. Autumn on the west coast is often crisp and bright – it's not unheard of for an 'Indian autumn' either and you may still want to pack sunscreen! Look out for wildlife and try to spot squirrels storing nuts for the dark weeks ahead.
4. Avoid Airport Hassle
Swap days delayed at the airport for days spent in some of Scotland's best loved sailing waters. Let your last holiday of the year leave you feeling relaxed and revived and not stressed and flustered.
5. Get off the Beaten Track
One of the things we do really well is to take you on paths less travelled, for example, enjoy the serenity of the Caladh walk where you can immerse yourself with the sound of nature. We love to introduce you to idyllic beaches and stunning harbours which entice you to get out exploring. Discover abandoned villages like Glenan Bay or secret coves inaccessible by foot. With limited availability during our 2017 season, don't miss the boat and book your Autumn cruise aboard Splendour.
For more information on our Autumn Cruises please visit our cruise calendar, or contact Jamie the shore manager on +44 (0) 7917 858545 or email info@argyllcruising.com
Photos courtesy of local photographers Ronnie Stokes and Grant Gillon